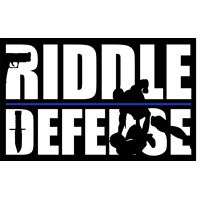 Women's Warrior Weekend: May 18 & 19, 2019
Learn How to Defend Yourself While Standing, On the Ground and with Weapons... Shooting Under Duress!
Duration: 2 days: May 18 at Riddle Defense / May 19 at Okeechobee Shooting Sports
Fee: $369.00
Type(s): Advanced, Basic, Intermediate, Women's Only Courses
Instructor: RIDDLE DEFENSE - John Riddle View Bio
Description
Day 1 
-survival mindset
-personal & situational awareness
-verbal de-escalation
-self defense tactics & concepts
-handgun retention

Day 2
-firearms safety drills
-loading / unloading
-shooting fundamentals
-stoppage / malfunction drills
-reload drills
-shooting from cover
-movement drills

Documentation Requirements
Vaild Driver's License

Don't own a firearm... Riddle Defense along with Century Arms will provide you with one. Don't let not having a firearm or any shooting experience deter you; at Riddle Defense learning is key!

Riddle Defense will be providing a courtesy van to transport you and your gear to and from Okeechobee Shooting Sport.
The instructor requires a copy of your driver's license once you register.
Requirements
Day 1
-mouthguard
-belt 
-your carry holster
-closed toe shoes
-wear loose fitting clothing to complete physical activity
*bring jeans / long pants with belt loops

Day 2
-handgun (semi-auto-revolver)
-ammunition for your Handgun (400 rounds)
-minimum of 2 magazines for your handgun (if semi-auto)
-magazine pouches to fit your magazines
-IWB / OWB holster to fit your handgun
-belt to properly fit and secure the holster
-hearing protection
-wrap around eye protection
-mouthguard
-gloves (optional)
-sunscreen 
-rain gear (training takes place rain or shine)
-snacks / hydration (bottles of water / gatorade)
-ball cap / long sleeve crew neck shirt / long pants with belt hoops that will fit your holster and magazine pouches / closed toe shoes


Topics Covered
-Sitiuational Awareness
-Body Language
-Handgun Retention
-Gear Placement and Firearm Safety
-Building Firearm Confidence
-Basic Fundamentals
-Loading Techniques
-Shooting at Various Distances

Expectations and Outcomes
Day 1: Fighting Back
If you find yourself in a situation where you need to fight back, we'll teach you how to defend yourself while standing, on the ground with empty hands and against weapons.

One Day 1 you will learn how to defend yourself with striking techniques, knee and elbow  strikes for closer contact, kicking for longer range and on the ground for ground defense techniques. We will also add in weapon defenses (knife, objects such as pipe,sticks,baseball bat, ect.) Also included in Day 1 will be Handgun Defense/Retention. We will discuss and go hands-on on how to defend your handgun if you are involved in a violent close quarter encounter. At the end of Day1 you will be well versed in physically defending yourself in close quarter encounters. 

Day 2: Range Day 
Day 2 is Range Day. We will start out with a detailed firearms safety briefing. We will take about survival mindset and touch back on situational awareness. A gear inspection and concealment tips will be also be discussed. when we step out on the firing line we will cover the fundamentals and go through "Dry Drills" for a warm up.
You will shoot "Live Fire" at different distances, go through reload drills,stoppage drills, shooting from cover and more.  
You'll leave the course able to defend yourself physically and be able to access your firearm and hit your target accurately and faster. The combination of both of these skills will make you a "HARD TARGET" 
Upcoming Classes
There are no upcoming classes scheduled for this course.