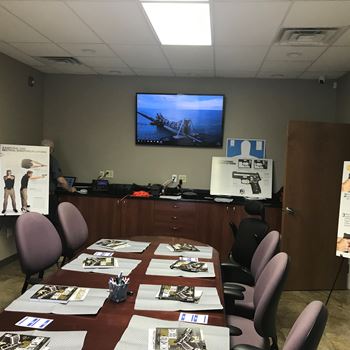 Swaats Gunshop
Gregg Spathis
BACKGROUND: Civilian, Instructor, Gov't Employee / Contractor
5 Years Instructing
PH: 815 573 1834
Available Courses
Next Class
Course
Type
Difficulty

No Upcoming Classes


Contact Instructor
CO-ED Basic Handgun Safety Class
"I bought a new gun, Now What?!
Basic, USCCA Courses, Seminars / Lectures

Basic

No Upcoming Classes


Contact Instructor
Countering the Mass Shooter Threat
Learn to avoid or deal with a mass shoot…
Specialty Other

N/A

Next class: Dec 10


See Classes
Illinois CCW 3Hr Renewal Class
Renew students Illinois CCW License.
CCW, USCCA Courses

N/A

Next class: Dec 10


See Classes
ILLINOIS CONCEALED CARRY 16 Hr CLASS
Required Certification Class for Illinoi…
CCW, USCCA Courses, In Home Defense Training

N/A

No Upcoming Classes


Contact Instructor
Instructor lead Virtual Basic Pistol Class
New to Firearms? We will teach you from…
Basic, USCCA Courses, Virtual Simulation

Basic

No Upcoming Classes


Contact Instructor
Men's Basic Handgun
For Men New to Shooting
Basic, USCCA Courses

Basic

No Upcoming Classes


Contact Instructor
Women's Beginners Handgun

Basic, Seminars / Lectures

Basic

No Upcoming Classes


Contact Instructor
Women's Handgun & Self-Defense Fundamentals
New to Firearms? we will teach you from…
Basic, Intermediate, Advanced, USCCA Courses, Women's Only Courses

Basic
About Swaats Gunshop
Gregg Spent 20 Years in Public Service at the local Government Level. He also Has completed several certifications and courses in Handgun Safety and CCW with Certifications through the United States Concealed Carry Association. Gregg has also eared his Certification as aTraining Couselor with the USCCA to be able to those Men and Women who wish to become Instructors in Illinois for Concealed Carry and Home Defense. Gregg is a Managing Partner for Swaats Training Academy and also Owner of Swaats Gunshop. Both Businesses are headquartered in Manteno, IL.
Courses Taught
CCW, Basic, Intermediate, Advanced, Rifle, Shotgun, USCCA Courses, Active Shooter Response Training, In Home Defense Training, Scenario Based Training, Scenario Based Training (Simunitions, Man Marking Cartridge), Women's Only Courses, Instructor Training Courses, Instructor Coach Training Courses, Seminars / Lectures, Tactical Casualty Care (TCCC / TECC)
Class Instructors Demond Harrison Geoffrey Denison Matthew Monk Nichole Whitten
Certifications
Concealed Carry & Home Defense Fundamentals - Training Counselor

Concealed Carry & Home Defense Fundamentals - Certified Instructor

Women's Handgun & Self-Defense Fundamentals - Instructor

Countering The Mass Shooter Threat - Instructor

Certified Range Safety Officer

Certified SIRT Laser Pistol Trainer
Policies
Cancellation Policy
Students may cancel up to 72 Hours Prior. Studens who cancell will be given financial credit to re-schedule class at another scheduled time. Any cancellation after 72 hours will be charged a fee of 50% of the class fee
Reschedule Policy
Sometimes Circumstances such as weather etc. arise where a class may be re-sheduled. We will re-schedule a class as soon as possible after the original date. No refunds will be givin unless the class cannot be re-scheduled.
Refund Policy
No refunds will be given after a class begins. If students fail the class or cannot complete their qulifications there are no refunds.
Reviews