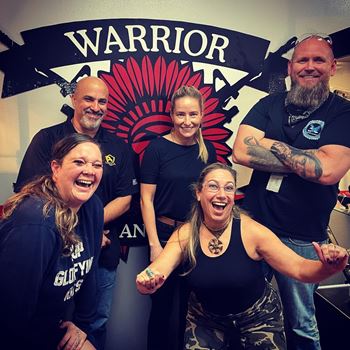 CORPORATE RAGNAR LLC DBA TOTAL TRAINING SOLUTIONS
JAMES MOESCH
BACKGROUND: Civilian, Law Enforcement, Former Law Enforcement, Instructor, First Responder (Fire / EMS), Gov't Employee / Contractor
15 Years Instructing
PH: 305 510 9984
About CORPORATE RAGNAR LLC DBA TOTAL TRAINING SOLUTIONS
Jim's interest in firearms started when he was a young boy. His Father Jim Sr was an avid shooter and a Correctional Officer with the Federal Bureau of Prisons. Jim Sr was a mountain of a man with big shoes to fill.
At the age of 19, Jim became a correctional officer with the State of Florida Department of Corrections. Soon thereafter, when he turned 21 years old he was able to join the ranks with his father at the Bureau of Prisons. Then the world changed forever on September 11th 2001. Wanting to make a difference, Jim became one of the Elites of the Federal Air Marshal Service. Trained by the best, he became a quiet professional patrolling the skies and protecting the flying public from criminal and terrorist violence.
Later on he continued to add to his experience by entering the world of Nuclear Security. With a focus on firearms training, Jim excelled at his job while protecting the public from acts of radiological sabotage.
Currently, Security and State/Local/Federal Law Enforcement professionals utilize Jim's skills as an instructor to train their officers in the fields of physical security, use of force, intermediate and non-lethal weapons, firearms training and qualification, weapons and explosives detection, and AHA Basic Life Support.
What he finds most rewarding is training the public to become responsible gun carrying citizens through obtaining their concealed weapons permit. Jim has trained countless individuals and helped them acquire their Florida concealed weapons permit in one of his many conveniently scheduled classes. Take the first step and book a class today!
Courses Taught
CCW, Basic, Intermediate, Advanced, Rifle, Shotgun, NRA Courses, Active Shooter Response Training, In Home Defense Training, Scenario Based Training, Scenario Based Training (Simunitions, Man Marking Cartridge), Women's Only Courses, Security Training & Certification
Certifications
NRA LAW ENFORCEMENT FIREARMS INSTRUCTOR

FLORIDA DEPARTMENT OF LAW ENFORCEMENT GENERAL AND HIGH LIABILITY INSTRUCTOR

TRAINING MANAGER FOR FEDERAL PROTECTIVE SERVICE SOUTH FL

INTERMEDIATE WEAPONS

SABRE RED CHEMICAL AEROSOL PROJECTOR INSTRUCTOR 

ASP EXPANDABLE BATON, DEFENSIVE TACTICS, AND HANDCUFFING

AMERICAN HEART ASSOCIATION BASIC LIFE SUPPORT INSTRUCTOR 

CERTIFIED FIREARMS INSTRUCTOR FOR FEDERAL, STATE AND LOCAL LAW ENFORCEMENT 

NATIONAL WEAPONS DETECTION TRAINING PROGRAM INSTRUCTOR 

FLORIDA K LICENSED FIREARMS INSTRUCTOR

Reviews
Videos
Miami Concealed Carry Class

Our concealed weapons class in Miami surpasses the firearm training curriculum that the Florida Department of Agriculture and Consumer Services mandates all concealed weapon permit applicants to attend before applying for their permits

---

Miami Concealed Carry Permit Class

We conduct a real firearm training class in where novices and professionals alike will learn state mandated firearm safety as well as many useful training tips. We go beyond what's required by the state for our students to apply for a concealed weapons permit because we are professionals with integrity who honestly care about what our students learn and will continue to practice in the future. What we teach our students is a direct reflection on us

---