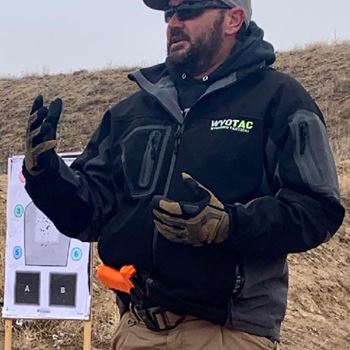 Wyoming Tactical
Jason Crotteau
BACKGROUND: Instructor, Gov't Employee / Contractor
10 Years Instructing
PH: 307-262-2248
Available Courses
Next Class
Course
Type
Difficulty

No Upcoming Classes


Contact Instructor
All Purpose Rifle
Build your own custom AR-15 and learn ho…
Basic, Intermediate, Advanced, Rifle, Specialty Other, Long Range Precision

Basic

Next class: Jul 15


See Classes
Defensive Carbine BUILD Class
Build your own custom AR-15 and learn ho…
Basic, Intermediate, Rifle, In Home Defense Training

Basic

Next class: Jun 4


See Classes
Intuitive Defensive Shooting
This is the best 1 day defensive shootin…
Basic, Intermediate, Advanced, CCW, In Home Defense Training, Scenario Based Training, Specialty Other

Basic

Next class: Aug 11


See Classes
Long Range Precision Rifle 3 Day

Intermediate, Advanced, Rifle, LEO / MIL / SEC Courses, Specialty Other, Long Range Precision, PRS / NRL (Precision Rifle Competition), Benchrest

Intermediate

Next class: Jun 3


See Classes
Pistol Optics

Intermediate, Specialty Other

Intermediate

Next class: Jun 24


See Classes
Primary / Secondary Application
2 day course pushing the defensive appli…
Intermediate, Advanced, Rifle, In Home Defense Training, Scenario Based Training, LEO / MIL / SEC Courses, Specialty Other, IDPA /USPSA / Multi Gun

Intermediate

No Upcoming Classes


Contact Instructor
Trauma Aid (Basic)

Basic, Intermediate, Women's Only Courses, LEO / MIL / SEC Courses, Seminars / Lectures, Tactical Casualty Care (TCCC / TECC), Security Training & Certification, Private Classes (Group / Individual), Church / Business - Safety / Security, Medical Other

Basic
About Wyoming Tactical
?
Jason lives and works in Central Wyoming. He has been involved in self defense training, both as a student and instructor since 2005. Training in multiple disciplines, he brings a wide range of experience to the table. 
Driven by the belief that we have a responsibility to ourselves and our communities, he has dedicated his teaching to safety, and self reliance.
New for 2019 Jason has unveiled the new All Purpose Rifle Course. This is the original, and the first time an instructor has partnered with a manufacturer to teach the full potential of both student and product. 
Jason is a certified NRA, Combat Focus Shooting, and USCCA Instructor. He holds credits in Small Unit Tactics, Unarmed, and Knife Defense, Trauma Aid, as well as Combat Tracking and Escape and Evasion. He is the owner, and lead instructor for Wyoming Tactical. Founded in 2015 the goal of WyoTac has been to bring the most progressive, real world firearms training to Wyoming.
Courses Taught
CCW, Basic, Intermediate, Advanced, Rifle, Long Range Precision, NRA Courses, USCCA Courses, In Home Defense Training, Church / Business - Safety / Security, Women's Only Courses, Instructor Training Courses, LEO / MIL / SEC Courses, PRS / NRL (Precision Rifle Competition), Benchrest, Shooting Sports Other, Tactical Casualty Care (TCCC / TECC), Medical Other, Specialty Other
Class Instructors Jason Crotteau
Certifications
Intuitive Defensive Shooting
NRA Basic Pistol
NRA Range Officer
NRA Women on Target
NRA Refuse to be a Victim
USCCA Concealed Carry and Home Defense 
USCCA Fundamentals of defensive Shooting Lvl 1
USCCA Fundamentals of Defensive Shooting Lvl 2 
Policies
Cancellation Policy
If you cancel a reservation more than 30 days prior to start of class, 90% of your deposit is fully refundable or transferable to another class of your choice. If you cancel 15-30 days before your class, One-half (1/2) of your class tuition is non-transferable and non-refundable. Any amount over this 1/2 is fully transferable or refundable if you cannot make the class for any reason. All reservations cancelled less than 14 days prior are non-transferable and non-refundable.
Reviews