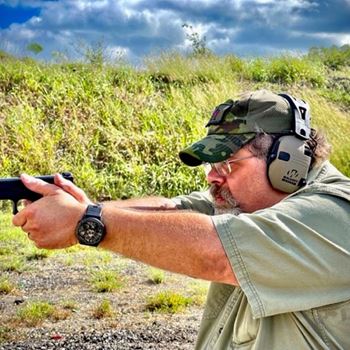 AO Training Solutions
Robert Nixon
BACKGROUND: Former Law Enforcement, Instructor, First Responder (Fire / EMS)
25 Years Instructing
PH: 214 277 9034
About AO Training Solutions
Robert retired in 2021 after a 30 year law enforcement career, including assignments in patrol, SWAT/ERT, fugitive/warrant operations, court security, use of force instructor and field training officer. Robert conducted studies that resulted in agency adoption of OC (pepper) spray, collapsible batons and backup handguns. He oversaw a highly successful targeted offender warrant enforcement detail for over 10 years which netted multiple arrests (the majority made by him) and earned him two commendations. Robert spent the last five years of his career as chief of the agency he retired from. During his tenure as chief, he implemented a robust tactical medical training program for both sworn and civilian staff.

Robert has received several hundred  hours of firearms training, both in the government and private training sector. He holds various firearms instructor & defensive tactics/OC/impact weapons instructor certifications. He is an EMT-B and is also an instructor in Stop the Bleed through ACS Stop the Bleed program, 1st Care Provider and First Responder Medical instructor through ALERRT. He is also a lifelong martial artist.

A list of those who have impacted Robert's training, either directly or indirectly:

Jeff Cooper

Chuck Taylor

Clint Smith

Guro Dan Inosanto

Ken Hackathorn

Massad Ayoob

Louis Awerbuck

Pat Rogers

Tom Givens

Dave Spaulding

Phil Singleton

Mike Pannone 

Tom Shelton

John Chun

Jon Rister

Jay Smith

And last but NOT the least
Chuck Williams ("SORRY BUD!")



Courses Taught
CCW, Basic, Intermediate, Advanced, Private Classes (Group / Individual), Combatives / Less Lethal, Stop the Bleed, F.A.S.T. (First Aid for Severe Trauma), Tactical Casualty Care (TCCC / TECC)
Certifications
Instructor development courses attended:
Tri-County Law Enforcement Pistol Instructor 
OC Aerosol Instructor (Azle PD, Haltom City PD, SABRE)
PPCT Management Systems Instructor
TCOLE Instructor 
ACS Stop the Bleed Instructor
First Care Provider Bleeding Control Instructor 
ALERRT CRASE, CRCC & First Responder Medical Instructor
CTT Solutions Covert Carry Instructor 
USCCA CCHDF & DSF Instructor
Policies
Cancellation Policy
Courses are generally held rain or shine: severe weather may warrant cancellation or rescheduling at instructor's discretion. Notification of cancellations/rescheduling will be made as timely as possible.
Refund Policy
Students who cancel class reservations prior to 30 days before course start will be refunded their class fee, minus a $50 administrative fee. Students who cancel within 30 days of class may request to apply the whole cost as credit towards a future class. By registering for a course, you confirm your agreement to our refund policy. 
Other Policy
All students will receive a safety and medical briefing at the start of each class and are expected to abide by all safety rules and instruction. Failure to do so can and will result in removal from class with no refund. 
Waiver
All students shall sign a release/waiver at the beginning of class. A copy of the release and waiver may be provided prior to date of class upon request.  

AO Training Solutions is a member of the Firearms Trainers Association and utilizes FTAs standard waiver. 
Reviews