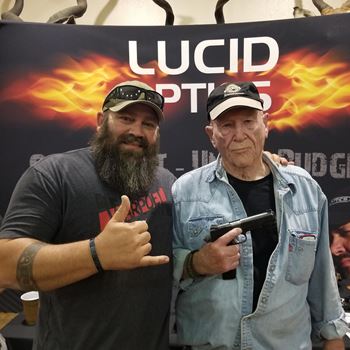 Door Kickers Union, LLC
David Mullins
BACKGROUND: Civilian, Former Military, Instructor, Gov't Employee / Contractor
15 Years Instructing
PH: 772 626 3286
Available Courses
Next Class
Course
Type
Difficulty

No Upcoming Classes


Contact Instructor
Basic Concealed Carry Class
Covers Laws and rules for Concealed Carr…
Basic, CCW

Basic

No Upcoming Classes


Contact Instructor
Basic Firearm Safety Class
Your first step to responsible gun owner…
Basic, Intermediate, Advanced, CCW, Rifle, Shotgun, In Home Defense Training, Scenario Based Training, Long Range Precision, Seminars / Lectures

Basic

No Upcoming Classes


Contact Instructor
Combination Rifle and Pistol
Learn to use both rifle and pistol toget…
Intermediate, Advanced, Rifle, Shotgun, Active Shooter Response Training, In Home Defense Training, Scenario Based Training, LEO / MIL / SEC Courses

Intermediate

No Upcoming Classes


Contact Instructor
Fundamentals of Pistol Shooting
Creating the foundation for proper and a…
Basic, CCW

Basic

No Upcoming Classes


Contact Instructor
Fundamentals of Rifle/Carbine Shooting
Gain proficiency and confidence with you…
Basic, Rifle

Basic

No Upcoming Classes


Contact Instructor
Introduction to Long Range Marksmanship
Your first step towards becoming a Preci…
Basic, Rifle, Long Range Precision

Basic

No Upcoming Classes


Contact Instructor
Working From Concealment
Learn how to draw and defend yourself fr…
Intermediate, CCW, Scenario Based Training

Intermediate
About Door Kickers Union, LLC
I am an Army veteran, who has trained thousands of soldiers, and civilians, throughout my career. Upon entering the civilian world, I continued being a firearms instructor. As civilians, I focus on training the practical vs the tactical, while still offering tactical and team based training. So whether you are a beginner, or a seasoned shooter, we have something to offer.

I also work in Private Security and Close Protection, and we train a lot with private security agents, and Homeland Security.
Courses Taught
CCW, Basic, Intermediate, Advanced, Rifle, Shotgun, Long Range Precision, NRA Courses, Active Shooter Response Training, In Home Defense Training, Scenario Based Training, Women's Only Courses, Virtual Simulation, Seminars / Lectures, Other
Class Instructors Marc Lucier
Certifications
NRA Certified Instructor and Range Safety Officer. 
Policies
Cancellation Policy
All sales are final. If you notify us 48 hours before the class start time, that you can't make it, you will be given a rain check to participate in the next class. Any cancellations that are not given with the 48 hour or more time frame, will have to register for a future class, and pay for the class again.
Reschedule Policy
If you need to reschedule your training, you must reschedule it at least 48 hours prior to your classes start time. You can then reschedule for a later date, or if it is a group class, then you will be given a rain check for the next class.
Refund Policy
All sales are final, and there are no refunds on scheduled training classes. We have to pay all the registration fees to the ranges up front, so if you register for a slot, then I have to pay for the slot up front. 
Waiver
A COPY OF THIS WAIVER WILL BE GIVEN TO EACH STUDENT AT THE BEGINNING OF EACH CLASS. IT MUST BE SIGNED, DATED, INITIALED AND TURNED INTO ME BEFORE YOU ARE PERMITTED TO TAKE PART IN ANY CLASS.


The individual named below (referred to as "I" or "Me") desires to participate in Firearms Training (referred to as "Activity" or "Activities") povided by Door Kickers Union (referred to as the "Member"). As lawful consideration for being permitted by the Member to participate in thr Activity, the tangible value that I will gain by participating in the Activity, I agree to all thr terms and conditions set forth in this Agreement (referred to as this "Agreement).

I AM AWARE AND UNDERSTAND THAT THE ACTIVITIES ARE DANGEROUS ACTIVITIES AND INVOLVE THE RISK OF SERIOUS INJURY AND/OR DEATH AND/OR PROPERTY DAMAGE. I ACKNOWLEDGE THAT ANY INJURIES THAT I SUSTAIN MAY BE COMPOUNDED BY NEGLIGENT EMERGENCY RESPONSE OR RESCUE OPERATIONS OF THE MEMBER. I ACKNOWLEDGE THAT I AM VOLUNTARILY PARTICIPATING IN THE ACTIVITIES WITH KNOWLEDGE OF THE DANGER INVOLVED AND HEREBY AGREE TO ACCEPT AND ASSUME ANY AND ALL RISKS OF INJURY, DEATH OR PROPERTY DAMAGE, WHETHER CAUSED BY NEGLIGENCE OF THR MEMBER OR OTHERWISE. 

I hereby expressly waive and release any and all claims, now known or hereafter known in any jurisdiction throughout the world, against the Member, and its officers, directors, employees, agents, affiliates, members, successors and assigns (collectively "Releasees"), on account of injury, death or property damage arising out of or attributable to my participation in the Activities, whether arising out of the negligence of the Member or any of the Releasees or otherwise. I covenant not to make or bring any such claim against the Member or any other Releasee, and forever release and discharge the Member and all other Releasees from liability under such claims. 

I shall defend, indemnify and hold harmless the Member and all other Releasees against any and all losses, damages, liabilities, deficiencies, claims, actions, judgments, settlements, interest, awards, penalties, fines, costs, or expenses of whatever kind, including reasonable attorney fees, that are incurred by the indemnified party, arising out of or related to any third-party claim alleging any bodily injury, death of any person or damage to real or tangible personal property caused by my negligence or other more culpable act or omission (including any reckless or willful misconduct) in connection with my participation in the Activities. 

Any controversy or claim arising out of or relating to this Agreement, or the breach thereof, shall be determined by final and binding arbitration administered by the American Arbitration Association ("AAA") under its Commercial Arbitration Rules and Mediation Procedures ("Commercial Rules"). There shall be one arbitrator agreed to by the parties within twenty (20) days of receipt by respondent of the request for arbitration or in default thereof appointed by the AAA in accordance with its Commercial Rules. The award rendered by the arbitrator shall be final, non-reviewable, and non-appealable and binding on the parties and may be entered and enforcedin any court having jurisdiction. The place of arbitration shall be Los Angeles, California. Excas may be required by law, neither a party nor the arbitrator may disclose the existence, content or results of any arbitration without the prior written consent of both parties, unless to protect or pursue a legal right. The arbitrator will have no authority to award punitive damages, or consequential damages. 

I IRREVOCABLY AND UNCONDITIONALLY WAIVE, TO THE FULLEST EXTENT PERMITTED BY APPLICABLE LAW, ANY RIGHT I MAY HAVETO A TRIAL BY JURY IN ANY LEGAL ACTION, PROCEEDING, CAUSE OF ACTION OR COUNTERCLAIM ARISING OUT OF OR RELATING TO MY PARTICIPATION IN THE ACTIVITIES. I CERTIFY AND ACKNOWLEDGE THAT I MAKE THIS WAIVER KNOWINGLY AND VOLUNTARILY. 

This Agreement constitutes the sole and entire agreement of the Member and me with respect to the subject matter contained herein and supersedes all prior and contemporaneous understandings, agreements, representations and warranties, both written and oral, with respect to such subject matter. If and term or provision of this Agreement is invalid, illegal or unenforceable in any jurisdiction, such invalidity, illegality or unenforceability shall not affect any other term or provision of this Agreement or invalidate or render unenforceable such term or provision in any other jurisdiction. This Agreement is binding on and shall inure to the benefit of the Member and me and their respective successors and assigns.

BY SIGNING, I ACKNOWLEDGE THAT I HAVE READ AND UNDERSTOOD ALL OF THE TERMS OF THIS AGREEMENT AND THAT I AM VOLUNTARILY GIVING UP SUBSTANTIAL LEGAL RIGHTS, INCLUDING THE RIGHT TO SUE THE MEMBER AND RELEASEES.