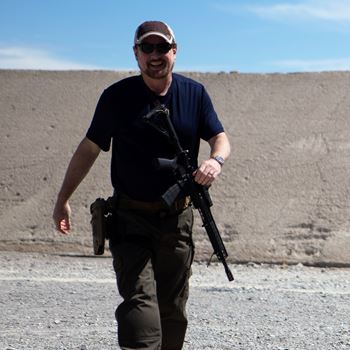 SAFE Training, LLC
Woody Woodman
BACKGROUND: Civilian, Instructor
3 Years Instructing
PH: 479-551-9869
Available Courses
Next Class
Course
Type
Difficulty

No Upcoming Classes


Contact Instructor
USCCA: CONCEALED CARRY & HOME DEFENSE FUNDAMENTALS
A comprehensive seminar for anyone consi…
Basic, Intermediate, CCW, USCCA Courses, In Home Defense Training, Other, Seminars / Lectures

Basic

No Upcoming Classes


Contact Instructor
USCCA: DEFENSIVE SHOOTING FUNDAMENTALS, LEVEL 1
Target shooting skills alone WILL NOT be…
Basic, Intermediate, Advanced, CCW, USCCA Courses, In Home Defense Training, Other

Basic
About SAFE Training, LLC
WHO AM I?

My name is Woody.  I grew up in a family of Law Enforcement Officers.  At an early age I was exposed to the safe and effective handling of Firearms.  I have been shooting and participating in the shooting sports (IDPA and 3-Gun) for most of my adult life.  For over 25 years as a sales and marketing professional, I have effectively presented and instructed to audiences from 2 to 3,000.  My passions for Firearms and communicating/teaching have blended into my company - SAFE Training, LLC.

WHAT IS SAFE TRAINING, LLC?

Safety - Awareness - Firearms - Education   That is what SAFE stands for.

I and the instructors that work with me provide Firearms Training including:

- New Shooter classes 
- AR State Basic CHCL and Enhanced CHCL
- NRA Certified Classes
- USCCA (United States Concealed Carry Association) Certified Classes
- Safety and Awareness Seminars
- Private Instruction

WHERE DO WE TEACH?

We are based in Northwest Arkansas (Bentonville - Rogers area) but will travel to teach classes.

DO WE HAVE A WEBSITE?

www.safetrainingus.com 

WHAT NATIONALLY CERTIFIED CLASSES DO YOU TEACH?

We offer NRA and USCCA Certified classes including:

- NRA Basic Pistol
- USCCA Concealed Carry and Home Defense Fundamentals
- USCCA Defensive Shooting Fundamentals, Level 1
   (Find out more information on all our available classes on our website)

HOW WOULD YOU DECSRIBE YOUR TEACHING STYLE?

Students tell me that they appreciate how I teach classes.  Informative, patient and able to laugh at myself.  All classes include safety briefings, professional PowerPoint presentations, interactive - hand on demonstrations and plenty of time for Q & A.  Live-Fire classes are held at professional indoor or outdoor ranges with Safety as our #1 priority. 

I believe if you put your trust in me for your Firearms and Defensive training, it is my responsibility to provide you the best possible, safest and effective training I can.

ANYTHING ELSE I SHOULD KNOW?

Even as an instructor I continue to train myself.  I'm always looking for ways to do something better or more effectively and when I find it, I include those concepts in my training classes. 

I am dedicated to teaching responsibly armed citizens Firearm safety and effective defensive skills to protect innocent life.

If you are ready to book a scheduled class now, follow the links on https://www.shootingclasses.com/safetrainingus/
If you have any questions, please visit our website, call or send an email and we will get back to you as soon as possible.  
Courses Taught
CCW, Basic, Intermediate, NRA Courses, USCCA Courses, In Home Defense Training, Scenario Based Training, Women's Only Courses, Seminars / Lectures
Certifications
NRA CERTIFIED INSTRUCTOR
USCCA CERTIFIED INSTRUCTOR
NRA CERTIFIED RANGE SAFETY OFFICER
CERTFIED GUNSHOT WOUND FIRST AID - US LAW SHIELD
Policies
Cancellation Policy
We understand that illness, family emergencies and other incidents arise that may require your absence from your registered training.  If that happens, simply notify us in writing at woody@safetrainingus.com or recorded voicemail at 1-479-551-9869 a minimum of 24 hours before the event.  We will credit your registration fee to an upcoming event of your choice.
Reschedule Policy
We will avoid cancelling scheduled training if at all possible.  If we believe there is risk to the safety of students due to weather or range conditions, we will provide notice to registered students 24 hours in advance.  We do not offer refunds due to instructor illness, inclement weather, floods, earthquakes and other Acts of God that require us to cancel and reschedule a training event.  If we cancel an event, we will reschedule the training to another date and credit your registration fee to a future training date of your choice.  
Refund Policy
We do not offer refunds.  We will provide registered students the opportunity to transfer any registration or class fees previously paid to a future class per our cancellation or rescheduling policy.  Any fees paid directly to a 3rd party (ex; USCCA on-line prerequisite course for DHF) may not be refundable.