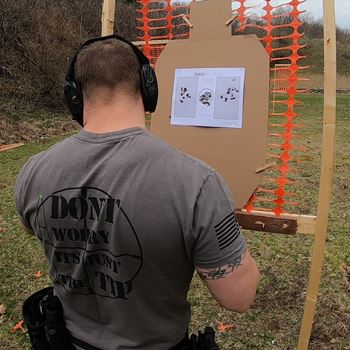 TriggerMike's Firearms Training LLC
Michael Dunlap
BACKGROUND: Civilian, Former Military, Law Enforcement, Instructor, First Responder (Fire / EMS), Gov't Employee / Contractor
10 Years Instructing
PH: 919 538 7499
Available Courses
Next Class
Course
Type
Difficulty

No Upcoming Classes


Contact Instructor
INTRO TO PISTOL
This course was designed for beginners.…
Basic, CCW, Women's Only Courses

Basic

No Upcoming Classes


Contact Instructor
PISTOL MECHANICS I (PM1)
Great opprtunity for anyone looking to s…
Basic, Intermediate, CCW, Women's Only Courses

Basic

No Upcoming Classes


Contact Instructor
PISTOL MECHANICS II (PM2)
Lets raise the standard and hold ourselv…
Intermediate, Advanced, CCW, Women's Only Courses

Intermediate

No Upcoming Classes


Contact Instructor
PRIVATE FIREARMS INSTRUCTION
We are available for private bookings fo…
Basic, Intermediate, Advanced, CCW, Rifle, Shotgun, NRA Courses, In Home Defense Training, Women's Only Courses, Other

Basic
About TriggerMike's Firearms Training LLC
My name is Michael Dunlap, the owner, founder, and CEO of TRIGGERMIKE'S FIREARMS TRAINING LLC, located in Butler County, PA.

My interests with firearms began as a child, while hunting and target shooting with family and friends. This grew as my career began in the United States Navy as a young adult, and has continued through the years as a member of the Pennsylvania State Police.

It is my goal to share the knowledge and skills that I have had the opportunity of acquiring over a long career, and through personal life.

My training courses are designed for all who are looking to gain the knowledge, skills, and mindset to safely operate a firearm, or simply hone and expand their current skill-level.

All classes have been designed to take place on the range, rather than a classroom, with prioritizing SAFETY. This allows the instructor(s) to identify the strengths and weaknesses of each student, while affording each student the time to become more confident and comfortable in their abilities to safely handle and operate a firearm.

It is our goal to build the foundation of a self-confident, well-informed shooter, providing you with the skills that will last a lifetime.
Courses Taught
CCW, Basic, Intermediate, Advanced, Rifle, Shotgun, Long Range Precision, NRA Courses, Active Shooter Response Training, Scenario Based Training, Women's Only Courses, LEO / MIL / SEC Courses
Certifications
Pennsylvania State Police Firearms Instructor
Pennsylvania State Police Range Safety Officer
National Rifle Association Firearms Instructor
Red Cross First Aid CPR
Red Cross AED
Stop The Bleed 
Crises Response and Management
Policies
Cancellation Policy
If your cancellation is atleast 72 hours in advance of the class, you will recieve a full refund. If your cancellation is less than 72 hours in advance, you will not recieve a refund. We will do our best to accommodate your needs.
Reschedule Policy
You may apply your refund to any rescheduled class.
Refund Policy
Full refund if cancellation is recieved atleast 72 hours in advance of your scheduled class. 
No refund will be issued for cancellations received less than 72 hours of scheduled class.