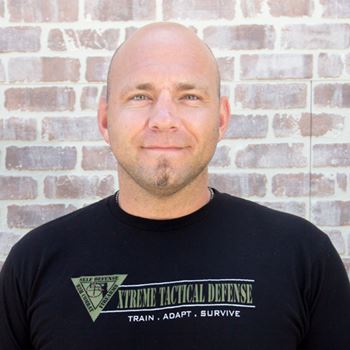 Xtreme Tactical Defense - St. Louis
Steve Sulze
BACKGROUND: Civilian, Instructor
12 Years Instructing
PH: 314 974 5728
Available Courses
Next Class
Course
Type
Difficulty

No Upcoming Classes


Contact Instructor
Beginner Women's Self Defense Workshop
Learn Life Saving Skills and Develop Sit…
Basic, Scenario Based Training, Women's Only Courses, Specialty Other, Seminars / Lectures, Combatives / Less Lethal

Basic

No Upcoming Classes


Contact Instructor
Defensive Handgun 1

Basic, Intermediate, Scenario Based Training, Combatives / Less Lethal

Basic

No Upcoming Classes


Contact Instructor
Emergency Trauma Care " Stop The Bleed"
Learn life savings skills and how to Sto…
Basic, Intermediate, Scenario Based Training, Tactical Casualty Care (TCCC / TECC), Stop the Bleed

Basic

No Upcoming Classes


Contact Instructor
Handgun Cleaning & Maintenance Course
Learn how to field strip, clean, what pr…
Basic, NRA Courses, USCCA Courses, Specialty Other, Seminars / Lectures

Basic

No Upcoming Classes


Contact Instructor
Intro To "Stop The Bleed" Trauma Kits
You Will Learn The Basics Of Tactical Tr…
Basic, Tactical Casualty Care (TCCC / TECC), Stop the Bleed

Basic

No Upcoming Classes


Contact Instructor
Intro To AR-15's\Modern Sporting Rifles
New to rifles, looking to purchase your…
Basic, Rifle, USCCA Courses

Basic

No Upcoming Classes


Contact Instructor
MMA\Ground Fighting Workshop

Basic, Specialty Other, Combatives / Less Lethal

Basic

Next class: Sep 30


See Classes
MO CCW: MISSOURI CONCEAL CARRY COURSE

Basic, CCW, USCCA Courses

Basic

No Upcoming Classes


Contact Instructor
Personal Protection Weekly Classes
FREE Trial Session- Tuesdays & Thursdays…
Basic, Intermediate, Advanced, Scenario Based Training, Scenario Based Training (Simunitions, Man Marking Cartridge), Combatives / Less Lethal, Stop the Bleed

Basic

No Upcoming Classes


Contact Instructor
Pistol 1 Shooting Course
The Pistol 1 course is designed for stud…
Basic

Basic

No Upcoming Classes


Contact Instructor
Rifle 1 Shooting Course
The Rifle\Carbine 1 course is designed f…
Basic, Rifle

Basic

No Upcoming Classes


Contact Instructor
Shooting Fundamentals
For Conceal Carry, Personal\Home Defense…
Basic, Intermediate, Advanced, Scenario Based Training, Combatives / Less Lethal

Basic

Next class: Oct 5


See Classes
WOMENS INTRO TO HANDGUNS & SAFETY
A great opportunity for women to develop…
Basic, NRA Courses, USCCA Courses, Women's Only Courses

Basic

No Upcoming Classes


Contact Instructor
Youth\Children Firearms Safety Course
Safety . Awareness . Prevention
Basic, In Home Defense Training, Seminars / Lectures

Basic
About Xtreme Tactical Defense - St. Louis
Steve Sulze was born and raised in St. Louis. Now a resident of Cocoa Beach, FL.
He is the owner and head instructor of Xtreme Tactical Defense and Xtreme Krav Maga & Fitness St. Louis in Fenton, MO.  Steve has been teaching Defensive Tactics to civilians, law enforcement and military across the Midwest since 2004.
Steve has been an avid shooter for years.  He travels annually to Los Angeles to train with special operations teams and the Los Angeles County Sheriff's Department for a 40 Hour Law Enforcement Recert.  He is the only certified Law Enforcement Force Training Instructor in Missouri.  
Steve sees the gap in people's training and his goal is to bridge that void with the new Xtreme Tactical Defense shooting courses.
Courses Taught
CCW, Basic, Intermediate, Advanced, Rifle, Shotgun, NRA Courses, USCCA Courses, Active Shooter Response Training, In Home Defense Training, Scenario Based Training, Scenario Based Training (Simunitions, Man Marking Cartridge), Women's Only Courses, Instructor Training Courses, Instructor Coach Training Courses, LEO / MIL / SEC Courses, Seminars / Lectures, Security Training & Certification, Combatives / Less Lethal, Tactical Casualty Care (TCCC / TECC)
Class Instructors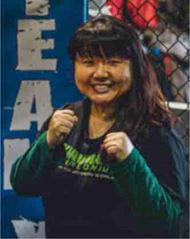 Allison Raskin
Bio Coming Soon… Krav Maga Worldwide – Phase B Certified Instructor Integrative Defense Strategies – Level 2 Certified Instructor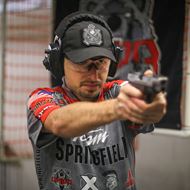 Dustin Pluth
-Team Springfield Armory? sponsored shooter -Team Rise Armament? sponsored shooter Sponsored pistol, rifle, 2Gun and 3Gun shooter, placing top 5 in IDPA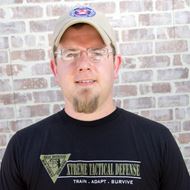 Josh Boxx
As a father of 4 and a husband, nothing is more important than the safety of my family. As a former Missouri Correctional Officer I have seen the worst of the worst. It is my goal to teach the value of the 2nd amendment. I love showing and teaching the safe handling of firearms.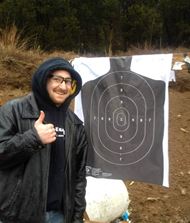 Josh Roddy
Bio Coming Soon… Krav Maga Worldwide – Expert 1 Certified Instructor Integrative Defense Strategies – Level 3 Certified Instructor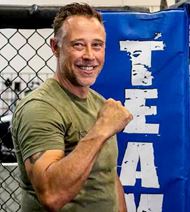 Paul Simms
Bio Coming Soon… Krav Maga Worldwide – Phase B Certified Instructor Integrative Defense Strategies – Level 1 Certified Instructor
Certifications
Owner Of Xtreme Tactical Defense
Owner Of Xtreme Krav Maga – Fenton & Dorsett
Competitive 2 Gun & USPA Shooter
Missouri and Illinois Certified CCW Instructor
Strategos International Tactical Firearms Certified Instructor
Krav Maga Law Enforcement Defensive Tactics Certified Instructor
P.O.S.T. Certified Law Enforcement Instructor
Krav Maga Worldwide – 2nd Dan Black Belt Certified Instructor
NRA Basic Pistol Certified Instructor
NRA Personal Protection In The Home Certified Instructor
NRA Personal Protection Outside The Home
Alpha Krav Maga International – Certified Instructor
Blue Belt Brazilian Jiu-Jitsu under J.W. Wright – Gracie Humaita
Policies
Cancellation Policy
NO REFUNDS ~ $25 RESCHEDULING FEE
Reschedule Policy
NO REFUNDS ~ $25 RESCHEDULING FEE
Refund Policy
NO REFUNDS ~ $25 RESCHEDULING FEE
Reviews
Videos
XTD || PISTOL 1 || INTRO - Learn the fundamentals of CCW-Concealed Carry!

XTD || PISTOL 1 || INTRO - Learn the fundamentals of CCW-Concealed Carry!

---

Xtreme Tactical Defense - 1 Min. Promo

Xtreme Tactical Defense - 1 Min. Promo

---

Come train with Xtreme Tactical Defense - St. Louis! www.XTD-STL.com

Come train with Xtreme Tactical Defense - St. Louis! www.XTD-STL.com

---