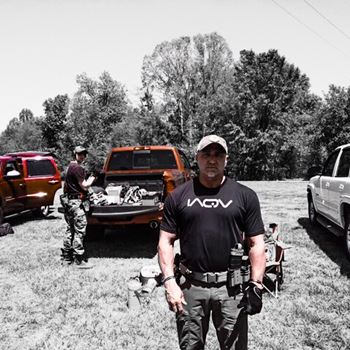 Defcon Delta Tactical LLC
Nile Wilson
BACKGROUND: Civilian, Military, Former Military, Law Enforcement, Instructor
7 Years Instructing
PH: 704-466-4109
About Defcon Delta Tactical LLC
I came form a small town south of Charlotte NC, Pinevlle NC. I am Viking by Heritage and a God fearing proud American Patriot to the core. Don't tread on me or my brothers! AND I MEAN THAT!! I am married to a wondeful shield maiden Cynthia (wife that can hold her own and has my 6) with 2 wondeful boys Dillon and Gabe, and 1 granddaughter, Rynlee, daughter-in-law Kalin. The boys have a big part in DDT.
My vision started years back from various training I have had and things I have experianced first hand. As I looked deep behind the basics I noticed a need that was applicable today in our society, I had a choice: overlook it or respond. So with my core being, my unwillingness to quit, and fight when no one else will, I responded and here we are. I don't know it all and never will, I"m always learning and soaking up new tactics, methods,teachings to improve and challange myself. I have strong core values and my outlook on life is very practical yet I believe others are not practicable in the way they view their disposition in life. I believe clarity in any situation and the ability to envision details on a grand scale are a must! The ability to strategize and implement a plan is key.

Stay awake and alive!
Courses Taught
CCW, Basic, Intermediate, Advanced, Rifle, Long Range Precision, NRA Courses, Active Shooter Response Training, In Home Defense Training, Scenario Based Training, Women's Only Courses, Seminars / Lectures, Specialty Other
Class Instructors Cameron Hays Daniel Wright Defcon Delta Staff Dillon Wilson
Certifications
NRA firearms instructor
Defense pistol instructor
NC CCH instructor
CQB Tactics instructor
Vehicle tactics instructor
TECC cert
T4e sims instructor
Class 3 manufacture
Policies
Cancellation Policy
Cancellation policy requires one to cancel 7 days before the class begins to get a full refund, or to be placed in another class date. Any cancellation after the 7 days the refund amount may be prorated per day. 
Reschedule Policy
Reschedule policy, rescheduling must be done 7 days before class begins, any later than the 7 days, a spot in another class date may not be possible.
Refund Policy
Refunds will be given if the attendee gives due notice 7 days before class begins. Any time after that the refund will be prorated.
Reviews