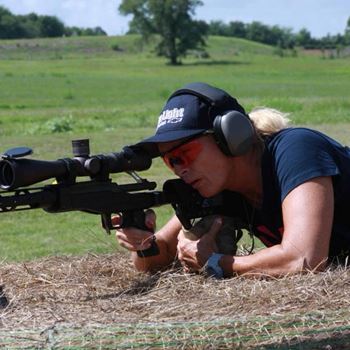 Shannon's Garden Gallery, LLC
Shannon Pable
BACKGROUND: Civilian, Instructor
5 Years Instructing
About Shannon's Garden Gallery, LLC
Specializing in firearms training for women but also teach men and entire families (pistol and rifle and less than lethal methods).  I thoroughly enjoy teaching women new to shooting and watching them become empowered and be their own first responder. I've been shooting seriously since 2014.  Have taken over 1400 hours in training classes, and several thousand hours in practice and competition.  I enjoy shooting IDPA, Bullseye, and other competitions.

Courses Taught
Basic, Intermediate, Rifle, NRA Courses, USCCA Courses, Women's Only Courses, Private Classes (Group / Individual), Seminars / Lectures, IDPA /USPSA / Multi Gun
Certifications
Certified Rangemaster Master Instructor, USCCA Certified Firearms Instructor, NRA Certified Pistol/Rifle Instructor, DTI Off Body Conceal Carry Certified Instructor, Armed Women of America Leader/Instructor, NRA RTBAV Instructor, MSP Certified Red Dot Instructor, Certified OC Spray Instructor, The Complete Combatant Deliberate Coaching Instructor Cert, MAG 40, CPR/AED/First Aid Adults and Children, Stop The Bleed, IBDD Instructor, NRA RSO, IDPA SO, Advanced Glock Armorer
Policies
Refund Policy
<!If the instructor cancels the class (due to insufficient attendance, illness, weather), a full refund will be given within seven (7) business days via business check.
<!No refunds will be given after a class begins. If a student fails the class or cannot complete their qualifications, there are no refunds.
<!There are NO REFUNDS for classes that are canceled (or NO Shows) by participants unless it is a severe personal/family medical emergency with a medical receipt.  In the case of a severe personal/family medical emergency, we will refund the amount of the class within seven (7) business days via business check OR student may apply towards a future class provided the student has sent us a COPY OF THE MEDICAL RECEIPT.
<!If you cancel with at least seven (7) days' notice, we will gladly allow you to move your paid registration to another class date within thirty (30) days of your original class date as long as there is availability.  If there are no other classes scheduled, you may apply it towards a private session (based on regular hourly fee for one-on-one) within thirty(30) days of original class.  You must cancel and reschedule via email at scpable@gmail.com
<!We do NOT offer refunds due to inclement weather, floods, earthquakes and other Acts of God that require us from cancel an event.  If we are required to cancel an event, due to Acts of God, we will reschedule the date and credit your registration fee to the next event.
<!Students will be briefed at the start of each class day on safety policies and procedures.  Failing to follow these policies and procedures may result in the student being removed from class with no refund.  
<!Anyone who repeatedly displays improper gun handling skills or behaves in an unsafe manner will be asked to remove themselves from the premises without a refund.
<!If student fails the class or cannot complete their qualifications, there is no refund.
<!Any student suspected of being under the influence of any intoxicating substance will not be allowed to participate in any training.  There is no refund available.


Other Policy
<!This is a COLD range; this means absolutely no loaded firearms on the property until instructor tells you to do so on the range.
<!All UNLOADED firearms and ammo will remain in your range bag until you are instructed to take out.
<!Student is at least 21 years old and can legally own/possess a firearm.

By agreeing to these terms, you agree that you have read all the website/class information and agree to the policies and information therein.
Waiver
Shannon's Garden Gallery, LLC
www.ShannonPable.com
678-361-5163


Please read, initial, and sign this waiver prior to training. 
1.    I, _____________________________________________, hereby agree to release and hold harmless Shannon Pable, on behalf of myself, acting agents representing both real or personal property, heirs, next of kin, assigns, personal representative and estate and acknowledge each Article as follows: 
2.    I acknowledge the risks and dangers that exist in my use of any and all firearms and assume the risks. (Initials)_______ 
3.    Participation in this activity is purely voluntary, and I elect to participate in full knowledge of the risks. I hereby voluntarily release Shannon Pable (discharge) and agree to indemnify and hold harmless from any and all claims which are related to my participation in this activity. (Initials)_______ 
4.    I agree to be personally responsible for my own safety and to follow all instructions given by Instructor. I may choose NOT to participate in any activity with which I am uncomfortable. I acknowledge that the Instructor may, at any time, make a judgment call as to safety, conduct, or unsportsmanship-like manner. If I fail to correct my actions after being warned, the instructor may use their own discretion to determine whether I may continue with the course.  (Initials)_______ 
5.    I agree when arriving or departing range property, I must keep the firearm(s) unloaded and cased. (Initials)_______ 
6.    I consent to having my photograph taken while participating at classes/events. These pictures may be displayed online or in printed promotional materials (without identification by name). I understand I may opt out. (Initials)_______ NOTE: We like to take a happy class photo at the end of class; if you'd rather not be in it, just don't initial this item. 
7.    I specifically release the shooting range owner/operator, the class instructor, all individuals participating in the administration of the event/class instruction, and the Officers and Directors of the shooting range from any and all claims or liability related to these events/class instructions. (Initials)_______ 
8.    I certify that I am not a fugitive from justice, or under indictment. I have not been convicted of a felony, misdemeanor, or any crime. I am not drug or alcohol dependent; I am not under adjudication of mental incompetence; I have not been convicted for domestic violence. (Initials)_______ 
__________________________________________ ______________________ 
(Participant's Signature) (Date) 
__________________________________________ 
(Participant's Printed Name) 
Reviews