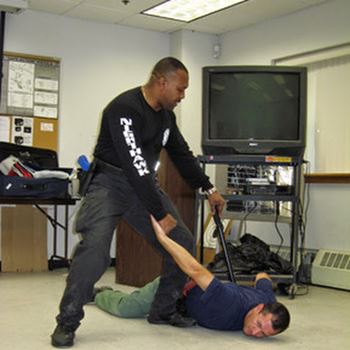 Combative Systems International, Inc. - CSI
MICHAEL LAZARUS
BACKGROUND: Civilian, Former Law Enforcement, Instructor, Gov't Employee / Contractor
40 Years Instructing
PH: 954 848 1869
FAX: 321 914 0070
About Combative Systems International, Inc. - CSI
MICHAEL JAMES LAZARUS SR.
Law Enforcement - Security - Civilians Firearms & Tactics Instructor
353 Broyles Drive, SE; Palm Bay, FL 32909
Ofc: (954) 848-1869; Cell: (954)661-0484; Email: michael.lazarus9738@gmail.com

GLOBAL SECURITY • LAW ENFORCEMENT • CRISIS INTERVENTION:
Sergeant Michael James Lazarus is the Owner and Master Instructor of Combative Systems International, Inc (CSI) with its office located in Palm Bay, Florida.

He is a 25-year veteran of the Trinidad and Tobago Police Service. Graduating with honors from basic training, he accumulated a wealth of knowledge and experiences in the Field. As Primary Firearms, Tactics, and Street Survival Instructor during his 20 Years at the Police Academy, he trained, led, and supervised a team of instructors. His responsibilities included formulating, developing, coordinating, and implementing Training Programs, designing Lesson Plans and Schedules for the membership (6000), Special Teams, and Units.

Sergeant Lazarus was highly recommended and selected to be the Chief Instructor for the Organized Crime and Counter-Narcotics Unit (OCNU) under the auspices of the US-DEA. He was tasked with the special assignment of training and formulating the Unit's first-ever Special Entry and Rural Operations Team. For the latter, he completed instructor training by the Special Forces (SF), and Special Operations Group (SOG) of the Trinidad & Tobago Defense Force (TTDF) in Jungle Operations and Survival. His assignment was completed. He trained and mentored the Unit's Instructors and received special awards and commendations from the Trinidad and Tobago Police Service (TTPS) and the United States, Drug Enforcement Agency (US-DEA).

As a United States citizen, he was employed as a Defense Contractor by DynCorp International, LLC at US Army Base, As Sailiya in Doha, Qatar in Force Protection. He led and supervised the Security Operations Team for CENTCOM / CMPC and BDOC compound with promotion to Assistant Lead Guard. Deployed to Afghanistan as a Protective Security Detail (PSD)Team Member (Shooter), he gained rapid promotion to the position of PSD Team Lead.

This was followed by promotion to Site Security Manager (SSM) throughout several Afghanistan Provinces for Base Defense. He was then subsequently selected and transferred to the General Department of Police Special Unit (GDPSU) Special Police Training Center (SPTC) in Wardak Province, as a Training Coordinator/Mentor/Subject Matter Expert with the US-Led International Security Assistance Forces / Special Operations Forces (ISAF/SOF).

Subjects he actively taught at the SPTC included Close Quarter Battle / Combat, Advanced Tactical Firearms, Routine Traffic Stops, Rapid Vehicle Takedowns/Searches, Counter-Improvised Explosive Devices (C-IED), Combat Physical Training & Mental Fitness, Convoy Operations, Small Unit Tactics, Surveillance & Information gathering, Building Entry/Room Search & Clearing/Extraction, Arrest and Control Techniques, Weapon Retention, and Baton Techniques.

At the cessation of training operations in Wardak, and before End of Mission (EOM), he was selected and assigned with a special team of instructors to train the members of the Afghan President's, Afghan Public Protection Force (APPF) in Kabul. As a longtime member of the International Association of Law Enforcement Firearms Instructors (IALEFI), he has also trained and taught numerous US and International Law Enforcement Officers at their Annual Training Conferences.

Sergeant Lazarus has Fifty-Five (55) years of Martial Arts training in several disciplines and has trained thousands of students internationally, including Hong Kong Police Defense Tactics Instructors. He is an Inductee with multiple honors into the Florida Gold Coast, Martial Art Hall of Fame for his contribution to enhancing the growth and development of Law Enforcement Defense Tactics. He is also the recipient of numerous Martial Arts Awards and special commendations from other the United States Martial Arts Associations. Included is the former Florida Chapter of the "First Special Service Forces"-WWII (FSSF) aka – "The Black Devils" at their Annual Reunions, as a special VIP Guest and Speaker with other special invited US Military & Civilian Dignitaries.

He is a professionally accredited international Law Enforcement Firearms and Tactics instructor with extensive practical and tactical field operations experience. He has an impressive academic background graduating Valedictorian from the Federal Law Enforcement Training Center - FLETC..(FITP & SAPP-409 (1994). Other US training includes the US Government Joint Training Center (1989), and Law Enforcement Officers Training School in conjunction with the Federal Bureau of Investigations (1996) - Hostage Negotiations, Kidnapping Investigations, and Crisis Management.

He has a proven record exceeding aggressive performance metrics with personal accolades from high-profile military and government officials for loyalty, training excellence, dedication, field operations, and leadership. An agile communicator is adaptable to the most challenging global environments with unceasing professionalism. And, a performance-driven leader devoted to the development and enhancement of Law Enforcement Operations and Security through Training and Education.
Courses Taught
CCW, Basic, Intermediate, Advanced, Rifle, Shotgun, Long Range Precision, NRA Courses, In Home Defense Training, Scenario Based Training, Women's Only Courses, Instructor Training Courses, LEO / MIL / SEC Courses, Seminars / Lectures, Security Training & Certification, Combatives / Less Lethal, Specialty Other
Certifications
Professional Courses and Training 1980 to Present

2021- Force Science Institute: Law Enforcement "Realistic De-Escalation" Instructor.
2020- Strategos International: "Church Security Planning for Leadership" Instructor.
2020- National Rifle Association: Civilian Handgun, Rifle, and CCW Instructor.
2020- National Rifle Association: Private Security Firearms Instructor - Handgun, Shotgun.
2020- Strategos International: Church Security Planning
2020- US Concealed Carry
2020- International Law Enforcement Training Summit: Leadership and Management, Instructor Refresher.
2019- IALEFI - ATC / Elite Training Specialists (ETS): Civilian Active Shooter Instructor.
2017- National Rifle Association: Law Enforcement Firearms Instructor.
2013- Task Force Palladin / ISAF SOF- IJC: Counter Improvised Explosive Device Instructor.
2013- ISAF/SOF: DShka Heavy Machine Gun Instructor
2013- Department of Justice Certification: Law Enforcement ICITAP Master Instructor.
2013- ISAF/SOF: International SWAT Core Operator Instructor Course.
2012- International Criminal Investigative Training Assistance Program (ICITAP): DOJ Master Instructor.
2011- DynCorp International: Police Instructor Development Course.
2010- DynCorp International: Personal Security Detail (PSD); M4, M9, M240 & M249 Automatic Weapons (PSD); High-Risk Motorcade (PSD); ACAS Armored Vehicle Driving Course; PSD Medic Course; Crucible: High-Risk Environment Course.
2010- Homeland Security Network: HSN's Rapid Threat Recognition.
2009- DynCorp International: Force Protection Security Course.
2007- Security Solutions International: Gulf Coast Terrorism Prevention Course.
2007- NRA & SIGARMS Academy: LE Firearms Instructor for Handgun & Shotgun.
2006- Russian Martial Arts Systema: Summit of Masters (Instructor In-Training).
2005- S2 Safety and Intelligence Institute: Assessing Terrorism-Related Risk.
2002- International Association of Counter-Terrorism and Security Personnel (IACSP): Terrorism Trends and Forecasts.
2000- Pan American Health Organization/ World Health Organization: Law Enforcement Forensic Psychiatry Course.
2000- International Protective Services (IPS): Weapons of Mass Destruction, Anti/Counter-Terrorism and Airline Safety Course, Israeli Hand-to-Hand Tactics Training, CPR Re-certification, First Responder, OC Pepper Certification, Blood Borne Pathogens & Tuberculosis Course.
2000- Cold Steel Training Division: Edged Weapons Program; Executive Protective Institute (EPI): Professional Pistol Defense Program; Sig Arms Academy: Protectors Pistol Defense Program; Armament Systems and Procedures (ASP): Tactical Baton Training.
1996 to 2008- International Association of Law Enforcement Firearms Instructor (IALEFI) Annual Training.
1999-Trinidad and Tobago Police Service (TTPS): Advanced Leadership/ Drill Instructors Course, Advanced Police Firearms and Tactics Course
Federal Aviation Administration / International Association of Law Enforcement Firearms Instructors Inc. (FAA/IALEFI): Law Enforcement Officer Flying Armed Course.
1998-1999 Trinidad & Tobago Defense Force (TTDF): Special Forces (SF) & Special Operations Group (SOG): Basic Jungle Operations & Survival Course
1997- Speer/CCI: Ammunition Ballistics.
1996- Law Enforcement Officers Training School / Federal Bureau of Investigations (FBI): Kidnapping Investigations, Hostage Negotiations, Crisis Management.
1994- Federal Law Enforcement Training Center (FLETC): Firearms Instructors Training Program 409, Semi-Automatic Pistol Program 409, Sharpshooter.
1993- Heckler and Koch (H&K) - MP5 9MM Sub Machine Gun.
1992- Trinidad & Tobago Police Service: Organized Crime and Narcotics Unit: Surveillance Techniques, Decoys and Use of Decoys Interviewing Techniques.
1989- United States of America Joint Training Center: Hostage Negotiations.
1986- Trinidad Rifle Association (TRA): Rifle and Pistol Coaching Techniques - US Olympic Coach: William "Bill" Krilling.
1984- Trinidad & Tobago Government Teacher's College: Teaching Techniques, Psychology of Learning, Adult Learning, Role Play, Evaluation and Assessment of Learning, Audio/Visual Aids, Formulating Objectives, Lesson Plans, and Programs.
1983- Trinidad & Tobago Defense Force (TTDF): Physical Education Instructor's Course.
1980- Trinidad & Tobago Police Service (TTPS): Police Instructors Program- Firearms, Tactics, Crowd Control, Riot Suppression, Foot/Arms Drill, Physical Training
Policies
Cancellation Policy
Combative Systems International, Inc. reserves the right to:
• Cancel courses, change course location, change instructors, or change course content.
• Cancel any training course due to insufficient enrollment at least 30 calendar days in advance of the  scheduled course date.
• In the event that a course must be cancelled, or the location of the course changed, registrants will be informed 30 days prior to the start of the course.
• Combative Systems International, Inc is not responsible for any expenses incurred by the customer if a training course is cancelled.
Reschedule Policy
Reschedule Policy:
• If a training class is cancelled due to any unforeseen circumstances such as a natural, or man-made disaster, the customer is entitled to a full refund or reschedule for a future training course.
• Notice to registrants will be provided with the option to reschedule for a future course date or to receive a full refund of registration fees.
Refund Policy
Refund Policy:
• All cancellation requests must be submitted within 30 calendar days of registration, and no later than 72 hours prior to the scheduled course date, in order to receive a full refund of paid registration fees.
• Registrant "No Shows" and "Cancellations" not made within the specified cancellation period will incur the full cost of registration. No Refund.
Other Policy
                                          FIREARMS SAFETY RULES AND RANGE REGULATIONS
A. Cardinal Rules of Firearms Safety:
     1. Treat every Firearm as if it were Loaded.
     2. Keep the Muzzle Pointed in a "Safe Direction" at all times. ( A Safe Direction is one in which, if a Firearm were to be discharged, there would be no human injury and, at most minor damage to property).
     3. Keep your Finger completely off the Trigger, and out of the Trigger-Guard, and on the Frame until you are ready to fire.
     4. Beware of your Target and what is around and beyond it.

B. Specific Rules and Information:
     1. Do you have any physical disability, limitation, illness, or other condition that would affect your ability to participate SAFELY in any aspect of this Training Program?  
     2. Are you, or will you be under the influence of any prescription drug(s), or alcohol that would influence your SAFE participation in any aspect of this Training Program? 
     3. Everyone has the responsibility for Range Safety. You are expected to use good judgment and to refrain from attempting any exercise which you may not be able to perform Safely, based upon your own ability, equipment, prior training, and physical condition.
     4. Wraparound or Side-Panelled eye protection, ear protection, a brimmed hat, or ball cap are required to be worn at all times while firing is in progress. This applies to Shooters, Observers, and Instructors. You are responsible for the specific type and quality of your Eye and Ear protection.
     5. Immediately upon picking up a firearm, keep your finger completely OFF the Trigger, and outside the Trigger-Guard. Keep the muzzle pointed in a Safe-Direction, open the Action, and check both Visually and Physically to determine whether or not it is loaded. Then check it a second time. (C.I.T. - Check It Twice).
     6. When you confirm a firearm is unloaded, check it both Visually and Physically.
     7. Never give a firearm to or receive a firearm from anyone unless the Action is OPEN for inspection.
     8. Never draw a Handgun from the Holster on the Range unless instructed to do so.
     9. On the Range, keep Handguns pointed Downrange at all times. Do not turn around with a drawn Handgun!
   10. Keep Handguns holstered or encased at all times when off the Firing Line. Handle uncased or unholstered Firearms only at designated Safe-Handling Areas, or on the Firing Line when instructed to do so, and when no one is Downrange. Do Not Handle Uncased of Unholstered Handguns in the Parking Areas or other Public Areas.
    11. Never draw or holster with your finger on the Trigger, or inside the Trigger-Guard.
    12. Never holster a cocked Handgun (Cocked-and-Locked Pistols excluded).
    13. Never step forward of, or back from the Firing Line unless instructed to do so, and your Handgun is Safely Holstered, or your Longgun made Safe.
    14. While on the Firing Line, never bend over to retrieve dropped articles/items until instructed to do so.            15. No unnecessary talking on or near the Firing Line.
    16. No eating, drinking, chewing, or smoking on the Firing Line, to reduce the risk of Lead Poisoning.
    17. Always wash hands and face after leaving the Range, shower, and change clothing at the end of a shooting day to reduce the risk of Lead Poisoning.
    18. Do not put brass in your hat or pockets, to reduce the risks of Lead Poisoning.
    19. Pay strict attention to the Instructor and the Range COmmands. Never anticipate a Range Command.
    20. If you do not understand the Range Commands, Do Not Proceed! Ask for clarification
    21. If your muzzle touches the ground, or if you drop a firearm, STOP-DO NOT TOUCH IT and summon an Instructor to SAFELY confirm that the firearm is safe to touch or use.
    22. Conduct a proper SAFETY and FUNCTION check of the unloaded firearm before and after use.
    23. Never Dry Fire on the Range unless instructed to do so.
    24. In addition to these Safety Rules and Procedures, you MUST FOLLOW the Safety Rules and Regulations of the Range Facility, and your specific Instructor or Range Safety Officer.
    25. If you observe an unsafe condition, immediately call "CEASE or STOP FIRE!"
    26. If you hear the command "CEASE or STOP FIRE!", immediately STOP FIRING, keep your finger completely OFF the Trigger, and OUT of the Trigger-Guard, and the Muzzle Pointed Downrange, and await the Range Officer's further commands.
    27. While firing, if you experience a Weak Report, Weal Recoil, or otherwise feel you may have a "Squib Load", STOP FIRING, keep firearm pointing downrange, finger OFF the Trigger, and ON the Frame, and summon a Range Officer.
    28. If you have a Malfunction or Stoppage which you do not know how to Remedy or Clear, STOP FIRING, keep the firearm pointed downrange, finger completely OFF the Trigger and ON the Frame, and summon a Range Officer.


Waiver
RELEASE OF LIABILITY, HOLD HARMLESS, COVENANT NOT TO SUE, ASSUMPTION OF RISK AND INDEMNITY AGREEMENT
In consideration of being permitted safety to participate in any way in the training and instruction being offered by COMBATIVE SYSTEMS INTERNATIONAL, INC (CSI). I_______________________(hereinafter" THE RELEASOR"), and being over eighteen (18) years of age, acknowledges, appreciates, and agrees that:
<!This training involves simulated, full contact, self-defense situations, and/or the use of Lethal/Non-Lethal training weapons, traditional weapons, and/or firearms by the class members and instructors in various scenarios and locations; and
<____I AM FULLY AWARE of the inherent risks of injury associated with the activities, and equipment involved with such training and Instruction, including the potential for permanent disability and death. And, that while protective equipment and personal discipline will minimize these risks, the risks of serious injury do exist; and
<!____I FULLY UNDERSTAND AND AGREE that I must conform and adhere to all Safety Rules and Regulations, the Commands and Instructions given by the Instructors; and
<!____I HEREBY KNOWINGLY AND FREELY ASSUME ALL SUCH INHERENT RISKS involved, whether known or unknown, even if arising from the negligence of those persons released from liability below, and assume all responsibility for my participation in said training and instruction; and
<!____I, FURTHER AGREE for myself, and on behalf of my agency, heirs, assigns, personal representatives, and next of kin, to forever irrevocably RELEASE, INDEMNIFY, HOLD HARMLESS, and promises not to sue Combative Systems International (CSI), the host, owners, and lessors of the premises used to conduct the training; including but not limited to its instructors, employees, agents, officers, volunteers, subcontractors, representatives, officials and all those others acting on their behalf ("Releasees"), against any and all judgments and liabilities, in law or in equity, costs, attorney's fees, damages, expenses, claims, demands or lawsuits including appeals, arising wholly or in part due to injury, disability, death or loss, damage to person or property, whether caused by any negligence, or deliberate act, error or omission of the "RELEASEES" or otherwise.
<!____I UNDERSTAND and FURTHER AGREE that this RELEASE OF LIABILITY AND ASSUMPTION OF RISK AGREEMENT covers each training session and/or simulation in which I participate or attend, and involves photography and videotaping by Combative Systems International in which I will be included, and will be publicized.
<!____I understand and FURTHER AGREE that Video Taping of any segment of the training without the expressed permission of the Director of Combative Systems International is Strictly Prohibited.
<!____I have read and fully understand this RELEASE OF LIABILITY AND ASSUMPTION OF RISK AGREEMENT, and understand that by signing my name below I freely and knowingly give up important legal rights.
________________________________                    ___________________________________
Releasor's Signature:                                                    Witness Signature
________________________________                     ___________________________________
Releasor's Printed Name          Date                            Printed Name                               Date
Reviews