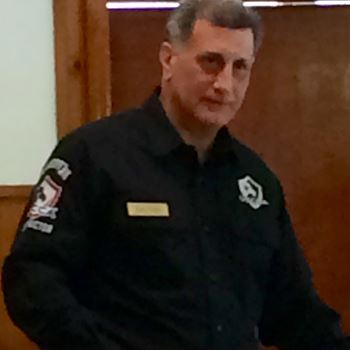 Concealed Carry and Home Defense, LLC
Sam Platia
BACKGROUND: Civilian, Former Military, Instructor
7 Years Instructing
PH: 610 509 1569
About Concealed Carry and Home Defense, LLC
A  Training Counselor and Certified Firearms Instructor with the United States Concealed Carry Asssociation , NRA Certified Range Officer, U.S .Marine Corps Veteran and a  Master 4th Degree Black Belt in Martial Arts  .   Born and raised in the Lehigh Valley where he still resides with his family, Sam  has a  strong commitment for safety, situational awareness and conflict avoidance which is a top priority in both class room training and on the firing range.  All classes are taught in a  relaxed atmosphere with a limited number of students in each class.  Since many students are handling a firearm for the first time and are unsure what to expect, by limiting class size allows for individual attention and an ultimate learning experience.
Courses Taught
CCW, Basic, Intermediate, Advanced, Rifle, USCCA Courses, Active Shooter Response Training, In Home Defense Training, Church / Business - Safety / Security, Scenario Based Training, Women's Only Courses, Instructor Training Courses, Seminars / Lectures, CPR / AED (First Aid for Lay Rescuers)
Certifications
-Certified Firearms Instructor with the United States Concealed Carry Association (USCCA)
-Training Counselor with the USCCA
-NRA Certified Range Officer
-US Marine Corps Veteran 
Policies
Cancellation Policy
-Concealed Carry and Home Defense Class No refunds but can reschedual to another class with a 72 hour notice prior to scheduled class.

-Defensive Handgun Class no refund
Reschedule Policy
-Concealed Carry and Hiome Defense Class must reschedule within 3 months of original class registration with a 72 hour office.

-Defensive Handgun Class no reschedule option.
Refund Policy
NO REFUNDS
Reviews
Concealed Carry and Home Defense
5 stars
From: Anthony
This is a very professional course of practical information, much of which I had not considered as it affects decisions about concealed carry and home protection, as well as basic instruction on safely handling a firearm, including range shooting. I'm actually leaning toward NOT ever carrying in public, and might even not keep a gun in my house. I'll decide after taking additional shooting sessions. But the discussions of safety alertness, de-escalation of potentially violent situations, applying common sense at all times, along with legal ramifications of any use of a firearm, were highly valuable.
Defensive Handgun Fundamentals
5 stars
From: Michael
This was my second course taken with Sam Platia and like the first one, it was awesome! I learned so much in this course. Definitely a course to get your adrenaline pumping while under stress from the hypothetical scenarios that Sam and his fellow instructors (Carmine and Tim) put together. I enjoyed the course so much that I plan to take the advanced course in the Spring. If you're looking for concealed carry training sessions with impressive instructors, look no further than to Sam Platia's courses. Again, big thanks to Instructor's Carmine and Tim for providing personalized instruction while on the range.
Concealed Carry and Home Defense
5 stars
From: Jeanette
I would recommend this class to everyone who needs that extra knowledge on key strategies to feel safe, comfortable and knowing what to do if and when the time comes for home defense. Also very important knowledge on how to properly and lawfully carry.
Defensive Handgun Fundamentals
5 stars
From: Nick
This was an excellent class that exceeded my expectations. This was the second class I have taken about gun safety and the law (took the first class at a different facility and thought I was at least thoroughly knowledgeable about the legal aspects of self-defense. I took this course to learn about the law and having a practical self defense strategy. I would highly recommend taking this course at Guthsville Rod & Gun Club.
Advanced Defensive Handgun Techniques
5 stars
From: Tim
Another day well spent. Despite the heat, Sam and his assistants Tim and Carmine kept the class moving while being mindful of the heat and we all completed the class with not incident. The techniques Sam taught today were easily understood. Now it's up to each of us to practice to develop these new skills in case we are ever in a situation where we need to apply them. I would highly recommend Sam to any of my friends looking to learn defensive shooting techniques.