Online Platform Simplifies Firearms Instructor Business
Firearms instructor Royce Bartlett became involved in shooting instruction in 2010, when he had his Federal Firearms License (FFL) and noticed that many citizens lacked adequate defensive shooting knowledge. He became an NRA certified instructor in 2015 to build credibility and later went on to become USCCA certified. He is now endorsed by the National Association of Chiefs of Police (NACOP). He has been an official accredited shooting instructor for four years.
Challenge
While Royce really enjoyed teaching his firearms classes, he found the administrative tasks that come along with teaching to be time consuming. Tasks such as promoting his classes, emailing students, following up with contacts, collecting payments and printing and distributing certificates were becoming problematic.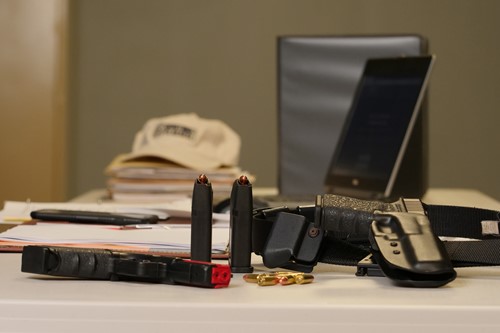 Solution
Royce found out about ShootingClasses.com through founders Bill Orndorf and Israel Matos and decided to give it a try. He instantly noticed that the features and benefits of the platform freed him up to do what he does best, and that's teach. "It has simplified my business, and it's like having an administrative assistant without having to pay and insure one," said Royce.
When asked to name one thing ShootingClasses.com has done for his business thus far, Royce frankly stated that it has simplified it. "It's really an invaluable help to me as an instructor, because I like doing admin work about as much as I like wearing fiberglass underwear!" said Royce.
Benefit
Using ShootingClasses.com to manage his firearms classes has helped Royce with customer management and financial tracking. He no longer spends unnecessary time and energy on the administrative side of his teaching business.
When students register for his classes through ShootingClasses.com, the platform creates his class roster, collects payments and deposits them in the bank, creates the certificates, handles communication with students and helps create repeat customers by making the whole process easy and seamless. All financial information is at the fingertips of the instructor. No more digging through files and bank statements!
When asked if he would recommend ShootingClasses.com to other firearms instructors Royce said, "Absolutely, and without hesitation, because once you get started, you'll find out how much easier it is to run your business. I would ask anyone contemplating coming aboard to sit down and calculate every minute and every dollar they spend on the administrative side of their business and ask themselves if they'd like to trim those costs exponentially. The answer will be obvious. Continuing to run your training business without ShootingClasses.com is like having a rotary telephone; it just doesn't make sense."
We couldn't have said it better ourselves, Royce!
Ready to sign up? Register as an instructor today.