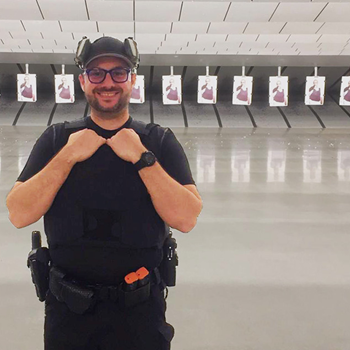 Safe Firearms Education LLC
Bertrand Blanc
BACKGROUND: Civilian, Instructor
5 Years Instructing
PH: 408 384 8598
Available Courses
Next Class
Course
Type
Difficulty

No Upcoming Classes


Contact Instructor
Glock Deep Cleaning
Full disassembly, cleaning, lubricating…
Intermediate, Other

Intermediate

No Upcoming Classes


Contact Instructor
NRA Basic Personal Protection Inside The Home
Teaches the basic knowledge, skills, and…
Basic, Intermediate, NRA Courses, In Home Defense Training

Basic

No Upcoming Classes


Contact Instructor
NRA Basics of Pistol Shooting - Blended Format
Come to acquire knowledge, skills and at…
Basic, NRA Courses

Basic

No Upcoming Classes


Contact Instructor
NRA Basics of Pistol Shooting - Instructor-Led
Come to acquire knowledge, skills and at…
Basic, NRA Courses

Basic

No Upcoming Classes


Contact Instructor
NRA Basics of Pistol Shooting Instructor
Become an NRA BOPS Instructor to teach y…
Basic, NRA Courses, Instructor Training Courses

Basic
About Safe Firearms Education LLC
SFE specializes in general public & professional education to own and operate a firearm responsibly and safely from first time buyers to advanced users, including professionals.

To name a few services, SFE provides NRA Courses in various disciplines, ad-hoc seminars fitting specific customer needs, DoJ Firearm Safety Certificate to purchase a firearm, Glock cleaning training.

SFE provides BSIS Firearms Training to obtain an opened carry permit licensed with the Bureau of Security & Investigative Services, as well as the full 40-hour package for the BSIS Guard Card. The Guard classes are conducted on-line at your own pace, from home. OC Certification included.

SFE offers training to become DoJ FSC Instructor who can proctor and issue the FSC cards to purchase firearms in California.

SFE provides NRA Instructor-level development trainings in various disciplines to train and counsel the next generation of NRA Instructors.


Courses Taught
CCW, Basic, Intermediate, Advanced, Rifle, Shotgun, NRA Courses, In Home Defense Training, Scenario Based Training, Instructor Training Courses, LEO / MIL / SEC Courses, Security Training & Certification
Certifications
Executive Summary

NRA Instructor
NRA Training Counselor
DoJ Instructor & Instructor Trainer
BSIS Firearm Instructor
POST LE Firearms Instructor
CCW Instructor (in 10 counties)
Associate of Science's degree in Administration of Justice, Law Enforcement major, West Valley Community College, Saratoga, CA.
P.O.S.T. Certified (California Peace Officer Standards & Training), Basic Academy Modular Level Three (SOBAYRTC #41) and Level Two (SOBAYRTC #23). PC832 (Arrest & Firearms) certified.
P.O.S.T. Certified Law Enforcement Firearms Instructor for pistol, shotgun/SBS, low light, and concealed carry.
B.S.I.S. Certified Firearm Instructor (license: 2571).
National Rifle Association (NRA) Certified Training Counselor in various disciplines, to coach, counsel and develop the next generation of NRA Firearms Instructors.
NRA Certified Instructor in various disciplines, teaching the basic knowledge, skills, and attitude for owning and operating a firearm safely. Registered as NRA Firearm Instructor with the Boy Scouts of America Youth Organization.
NRA Certified Instructor in Personal Protection, teaching advanced knowledge, skills, and attitude for owning and operating a firearm safely.
NRA Range Safety Officer (RSO) and NRA Chief Range Safety Officer (CRSO), ensuring the safety of patrons in private shooting events, at SCVRC San Jose Municipal Shooting Range and at the Boy Scouts of America's camps.
Certified Instructor from the CA Department of Justice (DoJ) to provide the Firearm Safety Certificate (FSC) that any person willing to purchase a firearm in the state of California is expected to pass.
Certified Comparable Firearm Safety Training entity by the CA DoJ to train any person willing to become CA DoJ Firearm Instructor. PC31635(b) certified.
Security Officer from the CA Bureau of Security and Investigative Services (BSIS, license 1889349), with exposed firearm carry (license 362984) and baton (license 1531649) permits. OC & Tear Gas certified. Taser Certified.
Certified Glock Armorer, member of the Glock Sport Shooting Foundation (GSSF).
Certified ScrumMaster from the Scrum Alliance, applying the state-of-the-art collaborative learning techniques.
Policies
Cancellation Policy
paid amounts are non-refundable. By courtesy, the amount is available for any upcoming services within one year time frame following the date of issuance of the invoice
Reschedule Policy
$50 convenience fee. Once registered on a roster and/or an appointment booked for a service, the student can move to another roster or postpone the appointment at their discretion within a 10-day period prior to the scheduled class or appointment, incurring a $50 convenience fee
Refund Policy
paid amounts are non-refundable. By courtesy, the amount is available for any upcoming services within one year time frame following the date of issuance of the invoice