Tell Your Story with Your Landing Page
Once you have reached prospective students through your lead generators, your unique URL brings them to your ShootingClasses.com landing page. Your landing page tells your story in a professionally designed format, allowing you to present your brand and your credentials.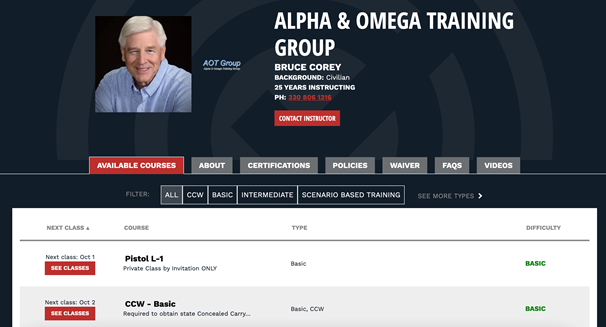 Display Your Business Information
Students will see all the relevant information about your business, including the business name and logo. They will learn more about you through your photo, your bio, and your background. Let them know how many years you've been instructing, and what applicable certifications you have attained.
This is also the ideal place to publish your business policies and FAQs.
Provide Detailed Class Information
As part of your story, you can describe the classes you teach. Use photos and video to promote your classes and show prospective students what they will learn.
You can be quite detailed in providing information about your classes. Your available courses will show important information for students, such as the class fee, location of the class, class description, and any requirements or prerequisites. It will also display class size, class time, available dates, and class status.
Streamline Registration
With this information in hand, students can then register for the desired class. Through a detailed form, students will provide their information and payment details. As the instructor, you'll be able to review every student that signs up for a class.
Register for a firearms instructor account to get started with your ShootingClasses.com membership.
Next section: Accept new students for firearms training