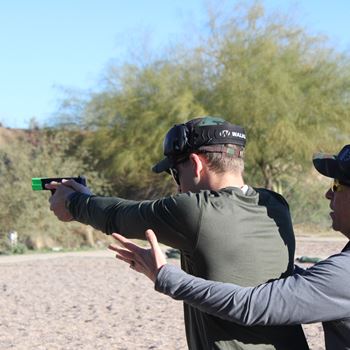 Warlizard Tactical
Joel Gaines
BACKGROUND: Civilian, Former Military, Former Law Enforcement, Instructor, First Responder (Fire / EMS), Gov't Employee / Contractor
2 Years Instructing
Available Courses
Next Class
Course
Type
Difficulty

No Upcoming Classes


Contact Instructor
17 Oct Women Only Pistol Fundamentals Clinic
Know whether or not you are law-abiding…
Basic, Intermediate, Advanced, CCW, Scenario Based Training, Women's Only Courses

Basic

No Upcoming Classes


Contact Instructor
Arizona CCW + Pistol Fundamentals Clinic
Know whether or not you are law-abiding…
Basic, Intermediate, Advanced, CCW, Scenario Based Training

Basic

No Upcoming Classes


Contact Instructor
Basics of Pistol Shooting
Develop a solid foundation for safe and…
Basic, NRA Courses

Basic

No Upcoming Classes


Contact Instructor
Basics of Rifle Shooting
Develop a solid foundation for safe and…
Basic, Rifle, NRA Courses

Basic

No Upcoming Classes


Contact Instructor
Carbine Fundamentals Clinic
This half-day class builds upon your bas…
Basic, Intermediate, Advanced, Rifle, Scenario Based Training, LEO / MIL / SEC Courses

Basic

No Upcoming Classes


Contact Instructor
Defensive Pistol I
Build skills that help you become an eff…
Intermediate, Advanced, Scenario Based Training, Scenario Based Training (Simunitions, Man Marking Cartridge)

Intermediate

No Upcoming Classes


Contact Instructor
Diminished Light Concepts
Learn to engage targets in a darkened en…
Intermediate, Advanced, Scenario Based Training, LEO / MIL / SEC Courses, Scenario Based Training (Simunitions, Man Marking Cartridge)

Intermediate

No Upcoming Classes


Contact Instructor
Fighting Carbine I
introduction to the world of "tactical"…
Intermediate, Rifle

Intermediate

No Upcoming Classes


Contact Instructor
Intro to Defensive Shotgun Use

Basic, Intermediate, Shotgun, Scenario Based Training (Simunitions, Man Marking Cartridge)

Basic

No Upcoming Classes


Contact Instructor
Lawful Use of Force
Learn what does and does NOT constitute…
Basic, Intermediate, Advanced, Rifle, Scenario Based Training, Seminars / Lectures

Basic

No Upcoming Classes


Contact Instructor
Level I Lifesaver
Learn the NATO algorithm for saving live…
Basic, Scenario Based Training, Tactical Casualty Care (TCCC / TECC)

Basic

No Upcoming Classes


Contact Instructor
Managing Multiple Assailants
Learn to handle dynamic events where you…
Intermediate, Advanced, Scenario Based Training, LEO / MIL / SEC Courses, Scenario Based Training (Simunitions, Man Marking Cartridge)

Intermediate

No Upcoming Classes


Contact Instructor
Vehicle Based Incidents
Learn to handle dynamic events where you…
Intermediate, Advanced, Scenario Based Training, LEO / MIL / SEC Courses, Scenario Based Training (Simunitions, Man Marking Cartridge)

Intermediate
About Warlizard Tactical
WLTAC brings you an unparalleled training experience. We train Military, LEO, contractors, enthusiasts and beginners in several disciplines. Our instructors bring experience from combat, military training, law enforcement, and competitive shooting. Our training is real-world and accommodates participants of all ages and skill levels. 
Courses Taught
CCW, Basic, Intermediate, Advanced, Rifle, Shotgun, NRA Courses, Active Shooter Response Training, In Home Defense Training, Scenario Based Training, Scenario Based Training (Simunitions, Man Marking Cartridge), Women's Only Courses, LEO / MIL / SEC Courses, Seminars / Lectures, Tactical Casualty Care (TCCC / TECC)
Certifications
NRA Certified Pistol, Rifle, Shotgun
NAEMT Certified TECC Provider
Combat Veteran
Policies
Cancellation Policy
If you must cancel, we can hold your payment on file for another course or we will refund the full amount. The only exception is for NRA basic courses - we will withhold $20 for materials ordered if you cancel within 30 days of the course date and request a refund.
Reschedule Policy
Rescheduling is easy!
Refund Policy
No refunds for the courses you attend. See cancellation policy for refunds on courses you must cancel. If we cancel a course, you will receive a full refund or course credit for a future course. It's your decision. 
Reviews