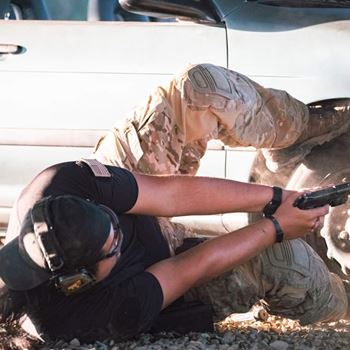 Applied Defense Concepts LLC
Kevin Tomas
BACKGROUND: Civilian, Former Military, Former Law Enforcement, Instructor, Gov't Employee / Contractor
14 Years Instructing
PH: 757-219-2079
Available Courses
Next Class
Course
Type
Difficulty

No Upcoming Classes


Contact Instructor
Combative Edge Level 1
2 days. Learn to stop violent attacks u…
Basic, Specialty Other, Virtual Simulation, Seminars / Lectures, Combatives / Less Lethal

Basic

No Upcoming Classes


Contact Instructor
De-Escalation and Crisis Management
Identify, assess, and de-escalate potent…
Basic, Scenario Based Training, Specialty Other, Combatives / Less Lethal

Basic

No Upcoming Classes


Contact Instructor
Defensive Pistol I: Foundation
Learn pistol fundamentals through a defe…
Basic, Intermediate, CCW

Basic

No Upcoming Classes


Contact Instructor
FIGHT BACK: Women's Self Defense
Don't be fooled by the thousands of othe…
Basic, Scenario Based Training, Women's Only Courses, Seminars / Lectures, Combatives / Less Lethal

Basic

No Upcoming Classes


Contact Instructor
Fighting Carbine I: Foundation
Learn the fundamentals of your fighting…
Basic, Intermediate, Rifle

Basic

No Upcoming Classes


Contact Instructor
Pistol 101

Basic, Virtual Simulation, Seminars / Lectures

Basic

No Upcoming Classes


Contact Instructor
Reactive Handgun Level I - Force On Force Handgun
Realistic Scenario-Based Training for th…
CCW, Scenario Based Training, Scenario Based Training (Simunitions, Man Marking Cartridge)

N/A

No Upcoming Classes


Contact Instructor
Virginia Concealed Handgun Permit and Basic Carry
Not your ordinary Concealed Carry class!…
Basic, CCW

Basic
About Applied Defense Concepts LLC
Courses Taught
CCW, Basic, Intermediate, Advanced, Rifle, Shotgun, NRA Courses, Active Shooter Response Training, In Home Defense Training, Scenario Based Training, Scenario Based Training (Simunitions, Man Marking Cartridge), Women's Only Courses, Instructor Training Courses, Instructor Coach Training Courses, LEO / MIL / SEC Courses, Seminars / Lectures, Security Training & Certification, Combatives / Less Lethal, Specialty Other
Class Instructors Christin Feng Matthew McGuinness
- United States Marine Corps. Assigned to 4th Assault Amphibious Battalion from 2010-2018. - Trained in MCMAP and ADC Combatives - Experienced in small unit infantry tactics as well as combat armored vehicle procedures. - NRA Certified Instructor: Pistol, Rifle, Shotgun, RTBV, C-RSO, Home Firearms Safety, Personal Protection Home. - Senior Role-player/Redman
Certifications
Instructors who are TCCC-trained (Tactical Combat Casualty Care) 
NRA certified in Shotgun, Pistol, and Rifle
NLB Tactical Certified Instructor (Special Operations Subcontractor)
Many Instructors hold current Department of Criminal Justice Services (DCJS) certifications
Instructors who are US Military Veterans
Policies
Reschedule Policy
Students may push their class to another date if they notify instructors within 1 week (7 days) of the class.  If this is not done in this time frame, students will need to review our refund policy.  
Refund Policy
50% of course cost at time of enrollment is non-refundable. The remaining 50% is refundable up to 30 days prior to the start date of training. There will be NO refunds given if a registrant cancels less than 30 days before the training start date. You may also roll course cost over to a course at a later date. Rescheduling attendance of a course must be communicated to ADC. Contact us at Team@Applieddefenseconcepts.com.

Late or missing refunds
We want to get you back your hard-earned money as soon as possible. If you haven't received a refund yet, here are some things to look into.

1. Double-Check your back account to make sure the funds aren't present or aren't scheduled to post on a later date.
2. Contact your credit card company. It may take some time before your refund is officially posted.
3. Contact your bank. There is often some processing time before a refund is posted.

If you've done all of this and you still have not received your refund yet, please contact us at Team@Applieddefenseconcepts.com

Sale items
If you purchased one of our items that was on sale and your refund is approved, we can only refund the sale price to you and not the original.
Reviews