My good friend Larry Hawkins often wears a T-shirt with this inscription on the back:
"You Must Be an Active Participant in Your Own Rescue"
If you think about it, this saying applies to many aspects of how we live our lives, and we can definitely take it to heart. For Part 1 of this blog article, I will focus on its relevance for instructors and how it applies to marketing their business. In Part 2, we will focus on students and their need for training.
Although ShootingClasses.com's core business is providing inexpensive yet comprehensive Administrative Management to firearms instructors, we realize that reaching students (marketing) is the life blood of running a firearms training business.
Marketing is expensive, can be difficult to create, difficult to measure and at times disappointing for dollars invested. ShootingClasses appreciates that Instructors continually send suggestions to enhance their marketing message on their "Landing Page" where firearms students come to ShootingClasses.com searching for instructors and classes.
Setting up Your Instructor Landing Page
This is what an Instructor Landing Page looks like when a potential firearms student views it online: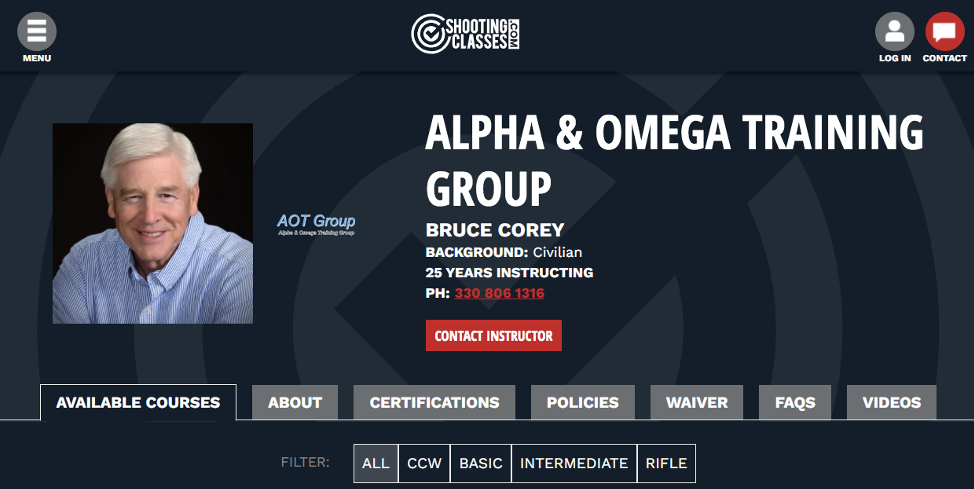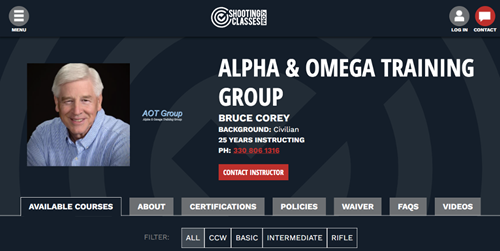 When thousands of people visit ShootingClasses.com every week, it is important for instructors to have their best information available to be seen. Within one to two clicks, students can see the following:
Business information – What instructors want students to know about the business
Instructor's and support instructor's bios and photos – Students appreciate seeing who they will be training with
Certifications – Listing of all organizational and state certifications
Policies and Wavier – Since students acknowledge and agree to them as part of registration, clear policies and waivers greatly minimize issues and disputes
Videos and Pictures (new) – Videos and Pictures are great selling tools to promote business and classes
Reference FAQs (new) – Can answer frequently asked student questions
Available courses, course details and class requirements and upcoming dates – Provide full descriptions for students to make decisions
Register for classes – Firearms students can register and pay for classes online
ShootingClasses provides this professionally presented marketing platform at no charge. Let me repeat myself, Instructors pay NOTHING to promote themselves and have their message available to be seen by thousands who visit ShootingClasses.com every week. See if you can find that marketing value anywhere else!
So, why do I say, "You must be an active participant in your own rescue"? Our marketing tool is of no value if instructors do not take advantage of its full potential. Again, let me repeat myself–our free marketing tool is of no value if instructors do not use it to its fullest potential.
Firearms instructors, after using ShootingClasses.com for six months or more, have come to appreciate the combined value that their Landing Page and comprehensive Administrative Management bring to their business. These features allow them to focus more on teaching and less on managing the business.
Best Practices
In looking at how many instructors manage their business, we see the following best practices:
Instructors make very good use of their Landing Page to tell students who they are and what value they have to offer.
Instructors review and update information on regular intervals.
Instructors include their Landing Page URL and Courses Page URLs on their own websites and social media posts to make it easy for students to click on, find information and register for classes.
Instructors create meaningful posts on social media to describe classes they offer with pertinent details: Class title, fee, date and time, location, web link to the class on ShootingClasses.com, etc. They also add photos and videos in their posts that get attention.
Instructors have "Google My Business" listings (It's FREE!). This listing has multiple benefits:

Students doing Google searches can find Instructors and their classes even if they don't have a website.
Google "sees" your classes and automatically makes them visible in searches.
Students can leave you reviews on Google My Business. (Be sure to ask students for reviews). Reviews give you credibility with Google and drive you higher in searches.
To the many instructors who take full advantage of ShootingClasses' marketing and administrative management, we thank you and appreciate your business.
To those instructors who have yet to take full advantage, we hope this article has inspired you. If you need help, please contact us.
To other instructors reading this article, we invite you to come join us, create a firearms instructor landing page, and take a more active role in your own "Rescue". The rewards are there.
Next up: Are You an Active Participant in Your Own Rescue? (Part 2) is about firearms students and their need for continued training.