Did you know goldfish now have a longer attention span than humans? That's right. The average human attention span is now down to 8.25 seconds, while the average attention span of a goldfish is nine seconds. Pretty sad, isn't it? 
Let's face it, we're all easily distracted. So, what does this mean for firearms instructors who use social media to reach new students? Can you get their attention in less than eight seconds? You can, if you do it right.  
Social Media Strategies to GET – and Maintain – Attention
Social media can be an easy way to connect with prospective students. After all, almost 60 percent of the world uses social media. Many firearms instructors have some version of social media playing a crucial role in their marketing efforts. With the number of people online, learning how to leverage social media is worth the effort.   
Just posting on social media is not enough to gain an audience or make a positive impact on your firearms instruction classes. What you post is important. You need to use social media the right way – that is, get their attention! Then give them a call to action and make it easy for them to follow through.  
Don't overcomplicate social media posts. Remember that 8.25 second attention span? Well, it's in full swing when your potential students are scrolling away. That doesn't mean using social media the right way needs to be a complex proposition. In fact, simplicity is key.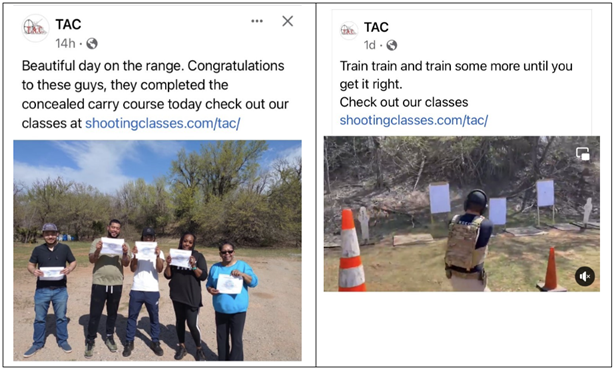 Here are four steps for creating social media posts that get results. 
Step One: Create a compelling post. A compelling post has a clear objective. What is the objective of your post? What do you want them to learn? What do you want them to do? You may want to use a post to: 
Introduce yourself and your business

 

Promote a specific course

 

Promote a particular class date

 
Choose an objective, get to the point and direct them to the action you want them to take. 
Step Two: Create simple, short text to convey a message and get attention. You might reach your desired audience, but do you have the right message and call to action (CTA)? Plan your message and then the desired action and state both clearly. You don't need paragraphs (again – there's that attention span issue), you just need quick chunks of copy that convey your meaning in a simple and straightforward manner.  
Here are some examples of messages firearms instructors might use, along with a call to action: 
Message:

An active shooter situation can occur anywhere, anytime. Are you prepared?

 
Action: Find qualified firearms training and register for a class.  
Message:

You could be a victim of a dangerous situation. Can you defend yourself?

 
Action: Take a firearms class from a qualified instructor. Register here.  
Message

:

What would you do if the unthinkable happened? Are you ready?

 
Action: If you have your concealed carry license, take firearms classes so you can use your firearm properly. 
Step Three: Include graphics / videos and use hashtags. An eye-catching post includes graphics, photos or video. This can range from your business logo to images of firearms classes to video of you or your students demonstrating skills etc. Don't miss out on the power of video! Statistics show video is one of the best ways to get attention on social media.  
Hashtags are another way to reach your audience. Hashtags allow users to find content based on topic, for example: #selfdefense or #firearms. See what type of hashtags are associated with similar posts and add them to your posts. 
Step Four: Make it quick and simple to register for a class using your ShootingClasses URLs. When people cannot go straight from Point A to Point B, you lose them. With a social media post, you need to make it easy to take action.  
As an instructor on ShootingClasses.com, you receive your own unique landing page URL. This makes it easy to get students to your site to register for classes. With your own landing page and associated content, you can link to: 
Your firearms training business landing page

 

Your courses

 

Your course registration 

 
Social Media Posting Basics
When constructing social media posts for firearms instruction, the most important points to remember are: 
Make your message clear and simple

 

Make it easy to register for classes with minimal clicks

 
With social media posting, it's always a good idea to review what you've done and make tweaks based on success. Are your posts generating comments, clicks or likes? Which posts get the most attention? Review your social media posts and do more of what succeeds.  
ShootingClasses.com Helps Instructors Find Students
If you're a firearms instructor and you're not on ShootingClasses.com, what are you waiting for? With ShootingClasses.com, you handle the teaching, and we'll handle the rest. We offer a fully automated customer management software website for firearms instructors to run the administrative side of the business. It allows potential firearms students to find instructors and find shooting classes near them. 
Learn more at ShootingClasses.com.