At ShootingClasses.com, we have invested heavily in creating software to allow firearms instructors to be found by and professionally presented to potential students. We also provide administrative management tools to more easily handle the time-consuming day-to-day details of running your business. 
One of the best ways to reach students that are trying to find shooting lessons is through social media marketing. ShootingClasses.com advertises on Facebook and Instagram using links that bring students to the site to find instructors like yourself. You can promote your ShootingClasses.com profile on your social media accounts—such as Facebook, Twitter and Instagram—using your specific instructor URL. Part of your own firearms instructor training should be learning how to use these platforms.
If you are not familiar, a URL (Uniform Resource Locator) is a web link that takes individuals to a specific location on a web site once they click it. For example, we use the URL https://www.shootingclasses.com/find-classes/ in our social media marketing to take individuals to a page on our website where classes can be searched by zip code. Once they click the URL, this is what they see: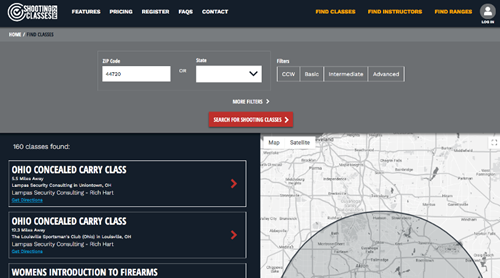 The URLs you use will bring students directly to your bio page and/or course pages to learn about you as a firearms instructor and to view and register for classes. You will typically use two primary URLs:
Bio Page: When a student clicks on this URL, they will be taken to your bio, background, certifications, courses and class dates.
Courses Page: When a student clicks on this URL, they will be taken directly to the course page for the class you are advertising on social media.
Bio Page URL 
Your Bio Page URL is located on your Dashboard by clicking on "Account", then "Manage."  Copy the URL located there and use it as a link to be clicked on via social media or on your website.

Example:  The URL https://www.shootingclasses.com/prp-training-solutions/ takes students directly to this Instructor's landing page:
Course Page URL
You can find specific URLs for Courses by going to ShootingClasses.com and clicking "Find Classes." Once you've found the course page you want to take students to, go to the top of the page where the website URL is displayed:

Note: You shouldn't use the URL listed when logged in and editing a course. If you share that URL, it will prompt the student to log in instead of allowing them to view your course information.
Click on the link, and the full URL will be revealed:

Copy the full URL to use in advertising of that specific course.
Here's an example: If the URL https://www.shootingclasses.com/prp-training-solutions/course/?courseId=230 is used in a Facebook post, it will take students directly to this Instructor's specific course page: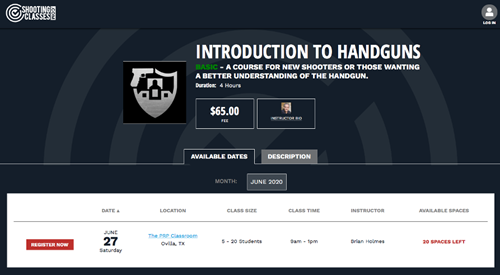 Using Your URLs on Social Media
Facebook makes it easy to create an "Event" to promote your classes. Here is how you can create one:
From the Facebook homepage, click on "Events" (located on the left column under Explore)
Click on the "+ Create Event" button, then select "Create Public Event"
Enter the details for the event, including course name, date(s), location, fee, etc.
Choose a category (we suggest using "Sports")
Under "Admission": click on "Add Ticket Link", then paste your course URL into the box
Click "Create"
Once your event is live, this is what it will look like if a student clicks on the URL listed in the event info from their mobile device: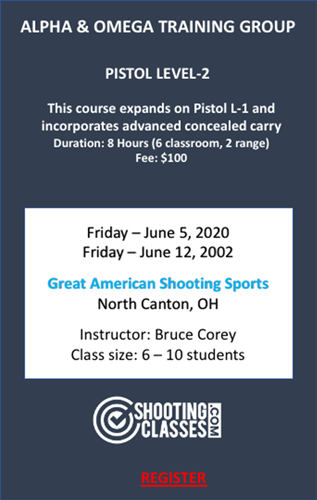 The student can then click "REGISTER" to sign up for your specific class.
URLs are great, simple tools to encourage students to learn more about you and your courses. If you need help with creating or using your URL links, we are happy to help – contact us today.
Not yet a ShootingClasses.com instructor? Register now.
Read the following article to learn more about how to become a firearms instructor and get certified to teach shooting classes.