Updated April 2020
Whether you're teaching an intro firearms class or advanced tactical training, our administrative management software takes the day-to-day hassle out of teaching. But how do you get more students to attend your classes? If you are not doing all of the following, you are missing opportunities to reach potential students!
Completing your Google My Business profile

Enhancing Google Search Engine Optimization (SEO)

Creating Events on Social Media
Keep reading to find out how you can implement each of these to improve attendance at your classes.
How to Create a Google My Business Account
Whether you have your own website or not, creating a Google My Business account makes it easier for people searching for firearms training to find you. With a Google My Business account, you get more than a business listing. Your free Business Profile lets you easily connect with customers across Google Search, Maps, images and more.
Here's an example of the variety of information that can show up on the side of a Google search when you search for a business that has a Google My Business profile filled out. The column on the left is filled with search results and ads, but the content on the right is where Google My Business comes in to play. It shows Precision Defensive Solutions' address, hours, upcoming events, customer reviews and other information that potential students would be looking for.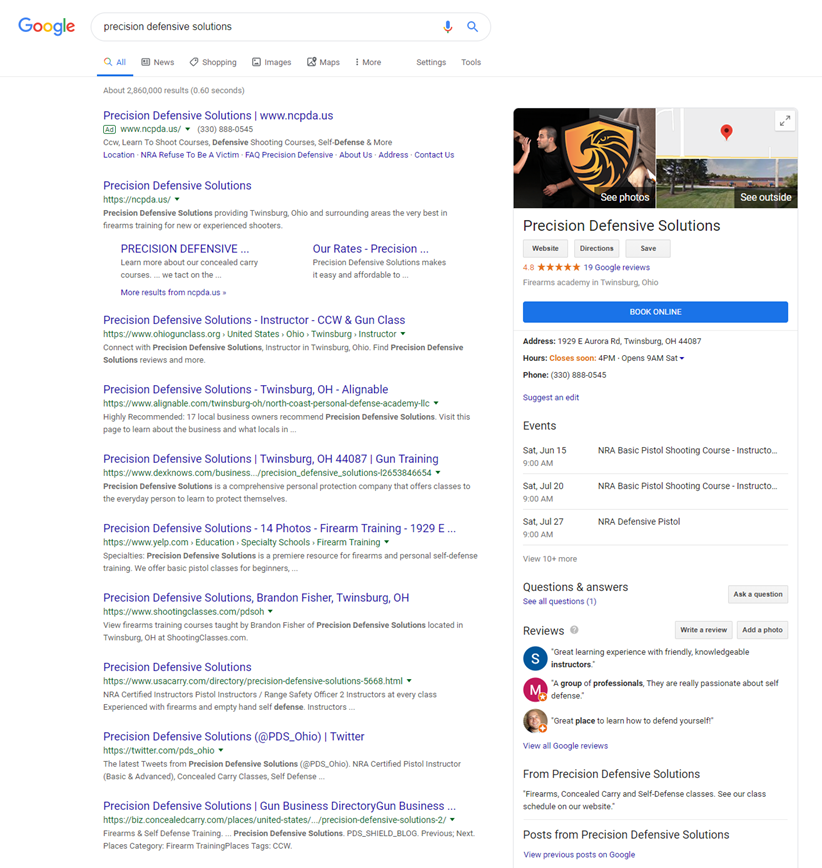 Creating a Google My Business account is a simple process. First, you create an account using your main Google account – whatever you use to log in to Gmail. Then, claim and verify your business, and optimize your listing by filling out your profile.
For complete details on how to do this, Hubspot has a great step-by-step tutorial.
How to Improve Search Engine Rankings through SEO
If you've ever used a search engine – such as Google – to look for a website and wound up scrolling and scrolling through results to find what you were looking for, the site's search engine optimization (SEO) probably wasn't that good.
There are many, many factors that go into how a site ranks on search engines. Here are some ways to improve your search engine rankings on Google in order to reach more people looking for firearms classes.
Add a link to your ShootingClasses.com bio on your website
Google picks up on websites that link to other similar websites. In this case, if your business website links to your bio page on ShootingClasses.com, Google is more likely to show your bio when people search for firearms instructors.
Wondering how to find your bio's URL? Go to Account > Manage, and use the links on the left hand side of the page to update your bio, courses and more. You'll see something like this:

When individuals click on your bio URL (whether it's linked on your website, in an email or elsewhere), they go directly to your personal landing page within ShootingClasses.com. They will then see your photo, bio, background, business info, courses taught, certifications and policies.
If you keep your bio up-to-date and word everything so it's relevant to potential students, they'll be more likely to register for a class. And, Google will recognize that people like your page and are using it, so the search engine will be more likely to better rank your page.
Update Your General Regions
ShootingClasses.com recently added a feature to bio information in which instructors can add regions where they teach classes. If you haven't added this information yet, log into your account, then go to Account > Manage > Bio & Courses Taught. Under "General Region," you can add something like "Northeast Ohio," "Dallas - Fort Worth, Texas," or "Bay Area San Francisco."  

When Google scans your profile, it will see these regions. It will store this information and use it when someone searches for classes in your area to give them more relevant results. If you're missing information on your profile, you're missing the chance to come up as a relevant search result.
Create Events on Social Media
Social media sites, such as Facebook, rank very high in search engine results because their sites are so large and people spend a lot of time on them. Use this to your advantage by creating events on Facebook that point back to your ShootingClasses.com profile. (Remember that Google looks for links from site to site.)
Creating Events on Facebook is a fairly simple process. First, on your Facebook homepage, click on "Events."

In the Events section, click on "+ Create Event", then "Create Public Event". This will open a box where you will put basic info for an upcoming class.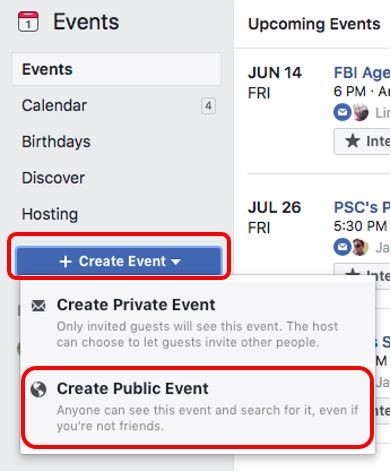 In this box, you'll add all of your event details and a link to your ShootingClasses.com page. (See the list of options below the image)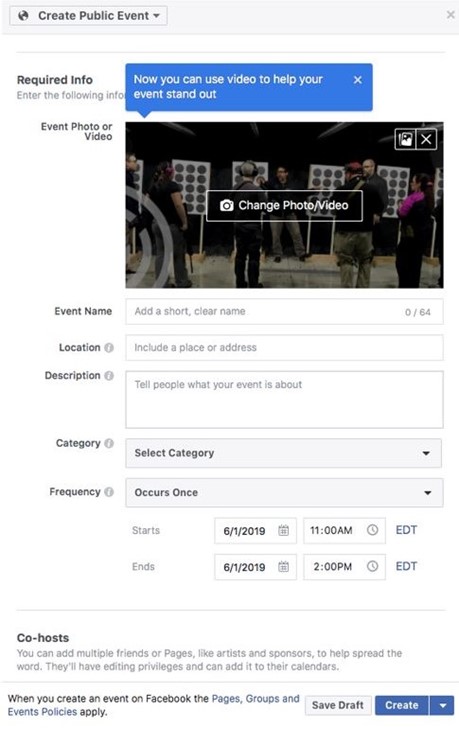 Use the default photo, or click "Change Photo/Video" to choose something different.
Add an Event Name. It's best practice to keep it short but descriptive.
Add the location.
Add a Description. Again, short is better. This is where you'll want to add a link to your ShootingClasses.com page so people can register for the class. 
Choose a relevant Category.
Choose the Frequency for the Event to run.
If there is additional information you can add, go for it!
At ShootingClasses.com, we also reach potential students through social media marketing, Google, and search engine optimization. The founders of ShootingClasses.com appear on many top firearms podcasts, contribute articles in popular firearms related magazines and more to increase the site's reach.
We'll continue to provide you with easy, all-inclusive administrative management so you can keep your growing business on track. And, so we can continue to work together to optimize opportunities to bring students to your classes.
Learn more about the features of ShootingClasses.com or register for an instructor account now. 
Interested in learning how to become a firearms instructor? You're in the right place!